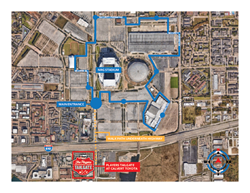 "Everything's bigger in Texas…including my Players Tailgate in Houston on Super Bowl Sunday! Real deal food and booze, a ton of NFL ballers and some big time fun! Check it out!" Celebrity Chef Guy Fieri
Indianapolis, Indiana (PRWEB) December 02, 2016
Bullseye Event Group is excited to reveal the location for the 2017 Players Tailgate at Super Bowl LI in Houston! Offering fans the premier location outside NRG Stadium. The 2017 Players Tailgate will be hosted just 1 ½ blocks from entrance at the Super Bowl / NRG Stadium, at Mike Calvert Toyota in Houston, Texas.
"We are excited to once again offer our VIP guests the chance to attend our premiere Players Tailgate and have it walking distance of the Super Bowl and have a clear view of the NRG stadium throughout the day," Bullseye CEO Kyle Kinnett said. "An incredible opportunity to come, hang out with celebrities and players and walk to NRG Stadium afterwards."
With over 25 NFL players and some of the biggest celebrities, Bullseye's 2017 Players Tailgate at Super Bowl LI will be the biggest and best pre-game tailgate in Houston. One of America's favorite chefs, Guy Fieri, will be returning to create the VIP menu, joined by chef Aaron May.
"Everything's bigger in Texas…including my Players Tailgate in Houston on Super Bowl Sunday! Real deal food and booze, a ton of NFL ballers and some big time fun!  Check it out!" Celebrity Chef Guy Fieri said.
The 2016 Players Tailgate featured Fox Sports reporter and emcee Erin Andrews, Victoria's Secret model Adriana Lima and Celebrity Chef Guy Fieri. The Emcee for the 2017 Players Tailgate will be announced in the upcoming weeks.
Individual tickets to the 2017 Players Tailgate can be purchased directly from BullseyeEventGroup.com, or are included in every Bullseye Super Bowl LI Travel Packages.
Bullseye Event Group's Super Bowl LI Travel Packages offer fans the chance to cross the NFL's biggest game off their bucket list, without handling any of the logistics! A VIP experience throughout Super Bowl weekend in Houston includes some of the most luxurious hotels in the Houston area! Super Bowl LI travel packages also include entrance into a Super Bowl welcome reception (featuring food, a premium open bar and a live DJ), a ticket to Super Bowl LI, private motor coach transportation to and from the stadium on game day and entrance into Bullseye's 2017 Players Tailgate at Super Bowl LI.
Call Bullseye Event Group today at 317-800-3280 for pricing and insider information regarding the Super Bowl LI Travel Packages and the 2017 Players Tailgate at Super Bowl LI!
About Bullseye Event Group
The official events and travel partner of the Indianapolis Colts, Bullseye Event Group offers fans VIP experiences as a secure, official source for travel, hotel, pre-game parties and game tickets. Bullseye is a direct and dependable source for tickets to the Colts VIP Tailgate, Super Bowl travel packages, the Players Tailgate at Super Bowl LI, Gate 6 Hospitality at the Masters and more. To learn more about Bullseye Event Group, visit BullseyeEventGroup.com.