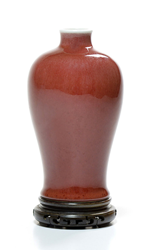 Beverly, Massachusetts (PRWEB) January 02, 2017
On January 15th, Kaminski Auctions will hold a two-session auction beginning with an array of fine Asian items from The Travis Brock Collection of Monochrome Ceramics of Bethesda, Maryland. The collection was acquired in Derbyshire, England in 1972. Highlights include a fine Chinese "Langyao" vase, with a lustrous red glaze with an under glazed Kangxi seal of the period, valued at $3,000-$4,000.
There is also a very rare pair of Kangxi aubergine "Dragon" dishes with deeply rounded interiors finely incised with five-clawed dragons. The exteriors are similarly decorated with pairs of striding dragons. They are conservatively estimated at $6,000- $8,000. A very fine Chinese sang-de-boeuf "Yuhuchun" vase of pear-shaped form with the Qianlong seal on the base is estimated at $4,000-$6,000, and there is a fine Chinese celadon bottle vase painted in a rich bluish-green glaze valued at $2,500-$3,500.
An early 19th century Chinese famille-noire figure of Guanyin elegantly covered with bright yellow, green and aubergine glazes stands sixteen inches high and a group of eight 18th and 19th century Chinese archer rings, in jade, agate, Peking glass and hardwood round out the top lots of this important collection.
Chinese furniture in the auction includes a large 18th century Chinese wood cabinet with brass work and a Chinese huanghuali wood scholar's cabinet from the late 19th to early 20th century.
Session Two features items from the lifetime collection of Cheryl Burke of Sarasota, Florida and other Massachusetts and New Hampshire estates. Highlights of this session include a Harriet Whitney Frishmuth bronze sculpture titled "Crest of the Wave ", signed and dated "1925" and marked edition 7/8 "Gorham Co. Founder". Displayed on a white marble base it is estimated at $12,000-$18,000.
There is also an important 19th century or earlier carved marble head of a mythological figure from a Rome, Italy estate. The figure possibly represents Alexander with the horns of Ammon after his conquest of Egypt in 332 B.C., when the priesthood accepted him as the son of the god Ammon. It is valued at $2,500-$3,500.
Fine art in the auction includes paintings by Brian Coole, "The American Hong at Hong Kong," an oil on panel signed lower right and two paintings by the Russian artist Mikhail Aleksandrov, "The Bird " and "Creation" from the Kouros Gallery, Madison Avenue, New York.
The auction will be held at the Kaminski Auctions gallery at 117 Elliott Street, Rt. 62, Beverly, Massachusetts. Preview will be held Wednesday-Saturday, January 11-14 from 10:00-5:00pm and day of sale beginning at 8:00am. Preview is open all day while auction is live. For more information go to http://www.kaminskiauctions.com and sign up to bid with KaminskiLIVE.