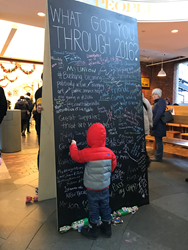 As we started to reflect on 2016 as a brand and look forward to our hopes of 2017, we thought this would be a great exercise to allow the people of Boston to reflect with us.
Boston, MA (PRWEB) December 30, 2016
In December 2016 IM Boston conducted a social experiment entitled #ShareYourHope in an effort to engage with Bostonians and have them reflect on the past year as well as look forward to the year to come. This video focuses on the incredible responses pertaining to the question "What got you through 2016?" It celebrates the amazing, diverse people of Boston who engaged in the event!
The video features participants who cite family, friends and even wine, as factors in helping them make it through 2016. But, above all, it seems as though the major themes for the year were those of love and hope. Read more about how inspirations are a universal language: https://imboston.com/universal-inspirations-throughout-2016/
Make sure to visit the IM Boston website to learn more about the #ShareYourHope initiative: https://imboston.com/.
About IM Boston: IM Boston is an online magazine and community that was born out of the idea that everyone has a voice and should be heard. No matter who you are; your nationality, background, living situation, income level, what path you chose for your career, you have a story. It's interesting when you stop and actually listen to the people around you, the people of Boston, you'll be amazed at what stories you'll find.