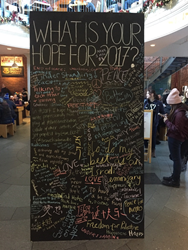 Even if people didn't want to share a hope of their own, they stopped to read what others had written. My hope is that someone was empowered or inspired by the words of others.
(PRWEB) December 31, 2016
IM Boston wanted to give hope back to the city it calls home this holiday season. To go along with the last release, today IM Boston is premiering a new video focusing on the second question they posed: "What is your hope for 2017?"
2016 has been labeled as a year to forget, but instead of dwelling on the negativity IM Boston wanted to inspire hope for 2017. In this video participants voice their goals and wishes for the new year. A couple of college freshmen talk about how their courseload has been tough thus far, but have set an impressive goal for a 4.0 GPA by the end of the year. A recent college grad hopes for persistence in her new life after college. One man writes down "talking to each other and learning" while another man tells the camera he hopes that Boston can once again pave the way in allowing immigrants into America. Read more on how hope springs eternal in 2017: https://imboston.com/hope-springs-eternal-in-2017/
This video series is a great way of exploring the #ShareYourHope event with the world and remind everyone that 2017 has all the potential to be the best year yet. To learn more about this initiative visit the IM Boston website: https://imboston.com/.
About IM Boston: IM Boston is an online magazine and community that was born out of the idea that everyone has a voice and should be heard. No matter who you are; your nationality, background, living situation, income level, what path you chose for your career, you have a story. It's interesting when you stop and actually listen to the people around you, the people of Boston, you'll be amazed at what stories you'll find.