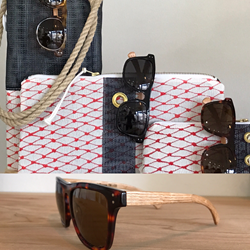 La Jolla, CA (PRWEB) December 30, 2016
SeaMakers & Co., a sustainable lifestyle store in La Jolla, CA, has introduced several new US-Made, eco-friendly brands to its store, including:

Flowfold - the makers of minimalist gear from racing sailcloth, for everyday adventures
Erin Flett - textile designer of home goods, including pillows, bags, glassware, candles, wall art, limited edition paper products, rugs, and wallpaper.
Traps Eyewear, makers of premium sunglasses using repurposed oak from lobster traps
Alaina Marie - maker of sustainable, unique and stylish fashion accessories, made from inspired by lobster bait netting
Other brands already found at SeaMakers & Co. include Sea Bags, a Maine-based designer and of maker of home and fashion accessories from recycled sails; Seawicks, makers of candles from 100 percent soy wax; Lemon & Line, hand-crafters of nautically inspired bracelets and accessories; and Felix Doolittle, Elüm, and Smock, each makers of occasion cards printed on recycled paper, using letterpress and soy inks.
For more information, please visit seamakersco.com or follow seamakersco on Instagram, FaceBook and Twitter for news on latest arrivals.
SeaMakers & Co.
7660 Fay Avenue, Suite J
La Jolla, CA 92037
http://www.seamakersco.com
info(at)seamkersco(dot)com
Tel: 858-412-4269