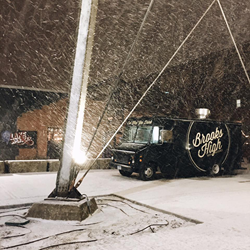 Minneapolis, MN (PRWEB) January 04, 2017
This winter marks the first ever to see more than 25 food trucks operating through the cold "off season." While there are many reasons for this, it still comes as a huge surprise. Operating a food truck in a Minnesota winter is far from easy and can be financially risky.
There are currently 27 food trucks affiliated with the Minnesota Food Truck Association that are active this winter. That is a record number compared to years prior. This year, food trucks can be found at various outdoor events including the St. Paul Winter Carnival, Red Bull Crashed Ice event, and The Beer Dabbler.
The growing number of breweries and taprooms directly contribute to the number of food trucks operating this winter. With over 45 breweries and taprooms in the Twin Cities, food trucks can be found somewhere every night of the week. Large businesses with no lunch options also continue to request food trucks during the winter. In an effort to keep people warm and fed, food trucks will often distribute flyers with food options listed and a phone number to text the order to spare customers from standing outside in the cold.
Find one of the following food trucks operating somewhere in the Twin Cities this winter: Sasquatch Sandwiches, A Peace of Cake, Outlaw Grille, O'Cheeze, Chicks on Wheels, Gastrotruck, Original Hockey Mom Brownies, Bacon Me Crazy, Market BBQ, Sandy's Italian Grill & Ice, Tru Pizza, Kabomelette, Everyday Joe, Tiki Tims, Potters Pasties, Pharaohs Gyros, The Purple People Feeder, Twin Grill, Pepperjax Philly Express, Flavor Wagon, Simply Steves, DelSur, Cafe Racer, Fork in the Road, Tot Boss.