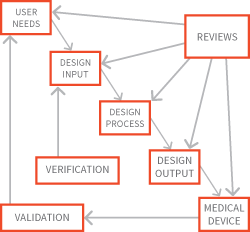 ...providing a navigable path to aid in completing deliverables necessary for regulatory submissions.
Lexington, Massachusetts (PRWEB) January 12, 2017
Cognition Corporation, a software company specializing in medical device compliance and commercialization, has just released a new white paper detailing how the Design Controls Templates built into its Cockpit Platform streamline product development.
The FDA requires medical device manufacturers to follow a set of guidelines in order to ensure compliance and safety for all devices going to market. However, in 21 CFR 820.30, Design Controls is one of the shortest standards written. The FDA has done its best to limit the number of interpretations with their "Design Control Guidance for Medical Device Manufacturers," but there are still vastly different interpretations across medical device and combination industries.
"We spent the better part of 2016 developing and fine tuning our new guided approach to compliance," said Cognition's CEO David Cronin. "The Design Controls Template, the second template set produced by our new initiatives, provides a navigable path to aid in completing deliverables necessary for regulatory submissions."
The white paper reviews how the Cognition Cockpit platform remedies this with out-of-the-box, pre-defined, and fully-configurable Design Controls Templates. With the templates, teams are walked through design control exercises during product development. This can help save critical time to market. The white paper is available for download here.
Cognition Corporation, based in Lexington, Massachusetts, has offered solutions for product development compliance for more than fifteen years. Cognition offers two core products: Cognition Cockpit™ and Cognition Compass™. Thousands of users worldwide use Cognition solutions to manage their product development process and meet regulatory, performance, and-time to-market goals. For more information, visit http://www.cognition.us or call (781) 271-9300.
###