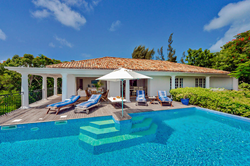 Austin, Texas (PRWEB) January 05, 2017
If Santa didn't stuff a vacation in your stocking, it's time to snap into action. The second week in January marks the busiest vacation home booking week of the year, according to new data released by HomeAway®, the world leader in vacation rentals.
Based on past traveler demand for the more than one million vacation rental homes on HomeAway.com, the most popular times to book a vacation are the second and third weeks in January, followed by the first week in February. What's more, vacation home demand tends to spike a whopping 75 percent from December to January, once the holiday hustle gives way to new year priorities.
"It's no coincidence that vacation demand surges in January, year after year," said Melanie Fish, Family Travel Expert at HomeAway. "Our thoughts go to new experiences for a new year, and families have just been together for the holidays talking about when they can get together again."
For those booking that next dream vacation, a recent study by HomeAway found that good planning can make vacations more memorable. The company's Science of Vacation Memories research, conducted with the University of Texas, studied more than 700 summer vacationers to uncover exactly what makes a vacation more memorable. Among actionable tips stemming from the study:

Climb every mountain. People who visited mountains remembered their vacations better than any other destination type.
Don't break the bank. Surprisingly, the cost of a vacation did not have an effect on its memorability, regardless of whether travelers spent $100 or $5,000.
Snap that selfie. Those who take photographs and selfies remember their vacations 40 percent better than their less snap-happy counterparts.
To learn more about the Science of Vacation Memories, got to VacationEquation.com, and to book a vacation home, visit http://www.homeaway.com.
About HomeAway
HomeAway—based in Austin, Texas—is the world leader in vacation rentals with sites representing more than one million online bookable vacation rental homes in 190 countries, and is a part of the Expedia, Inc. family of brands. Through HomeAway, owners and property managers offer an extensive selection of vacation homes that provide travelers with memorable experiences and benefits, including more room to relax and added privacy, for less than the cost of traditional hotel accommodations. The company also makes it easy for vacation rental owners and property managers to advertise their properties and manage bookings online. The HomeAway portfolio includes the leading vacation rental websites HomeAway.com, VRBO.com, and VacationRentals.com in the United States; HomeAway.co.uk and OwnersDirect.co.uk in the United Kingdom; HomeAway.de in Germany; Abritel.fr and Homelidays.com in France; HomeAway.es and Toprural.es in Spain; AlugueTemporada.com.br in Brazil; HomeAway.com.au and Stayz.com.au in Australia; Bookabach.co.nz in New Zealand; and Asia Pacific short-term rental site, travelmob.com. The company also operates BedandBreakfast.com, the most comprehensive global site for finding bed-and-breakfast properties, providing travelers with another source for unique lodging alternatives to chain hotels. For more information about HomeAway, please visit http://www.homeaway.com.
© 2017 HomeAway. All rights reserved. HomeAway and the HomeAway logo are trademarks of HomeAway. All other trademarks are property of their respective owners.