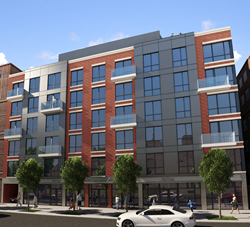 "This is an example of how non-bank lenders like Knighthead are capitalizing on the increased regulatory constraints banks are now facing."
Forest Hills, NYC (PRWEB) January 11, 2017
Knighthead Funding, LLC ("Knighthead"), the Greenwich, CT-based real estate finance company, announced that it has provided a $27 Million first mortgage construction loan to the developer of a seven-story, mixed-use apartment building located in Forest Hills, NY. The building will contain 46 apartments, ground floor retail and underground parking. The developer commenced construction shortly after the loan closed and completion is estimated to occur in 2018. The development will replace four existing structures, all of which had been used previously for commercial purposes.
The developer, Paraag Sarva, of Forest Hills-based PSRS Realty Group and his partners have owned the property since 1984. The 70-foot-tall building will house 46 apartments comprised of 27 one-bedrooms and 19 two-bedrooms with the average unit size measuring 975 square feet. The ground floor will contain 8,280 square feet of retail. Each of the upper floors will have eight units, except for the top floor, which will only have six units. A subterranean garage will have parking for 23 cars.
The property is located just half a block from Austin Street, the retail strip that houses many boutiques, restaurants, night-life and neighborhood conveniences. The development is also located only three blocks from the Forest Hills LIRR train station and the 71st Street/Continental Avenue subway station providing access throughout NYC and Long Island.
The construction loan was structured with a 36-month term, a prime-based floating rate and interest only payments. Commenting on the challenges of financing this project, Jonathan Daniel, Principal at Knighthead, said, "The underlying property has been owned by the same partnership since 1984 and has significantly increased in value during those 32 years, but with the current High Volatility Commercial Real Estate (HVCRE) rules, conventional banks were not able to underwrite the "as-is" value of the property as true equity contribution." Daniel added. "This is an example of how non-bank lenders like Knighthead are capitalizing on the increased regulatory constraints banks are now facing."
Residents are drawn to the Forest Hills neighborhood's relatively reasonable housing prices, excellent transportation, shopping and proximity to parks. Forest Hills housing market is driven by Manhattan expatriates who come not just for the neighborhood, but also for the home prices coupled with the close proximity of the LIRR and the subway. Forest Hills is located approximately 10 minutes from Flushing Meadows Park, the US Open Tennis Center and the famous Citi Field Stadium.
About Knighthead Funding, LLC
Knighthead is a real estate finance company specializing in bridge loans and other alternative debt financing to meet capital needs in a variety of unique and special situations secured by a broad range of real estate assets. Since 2013, Knighthead has earned an exceptional reputation for funding complex and situational real estate transactions in a timely manner with flexibility and certainty of execution. Currently, Knighthead is originating loans and investments for its 2nd discretionary real estate debt fund.