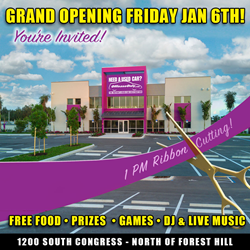 Stop by for Free Food, Music, Games & Prizes!
West Palm Beach, Florida (PRWEB) January 06, 2017
Join the Village of Palm Springs Officials, Loyal Customers and Amazing Media Partner's Today @ 1pm for the Off Lease Only Palm Beach Grand Opening celebration of the new location at 1200 South Congress Ave.
Off Lease Only Palm Beach has been in the works for more than five years, and was long overdue. However, the wait was beyond worth it!
The grand opening festivities start Friday at 10am and go all day with incredible prizes such as $5,000 in gift certificates to the International Diamond Exchange, Concert Tickets, Honda Classic Tickets, Hockey Tickets & more.
Delicious free food starts around noon and the ribbon cutting will take place at 1pm sharp.
Real Radio's Greek, Johnny C & Brooke will be broadcasting live from 10am- 2pm on 94.3 & 101.7 inviting everyone through the airwaves from Boca up through Melbourne to come by to celebrate and win prizes.
At 2pm DJ Jack Flash takes over the turntables mixing all of the greatest hits to get the crowds dancing.
Spin to win on the Off Lease Only signature prize wheel, or take your luck shooting hoops at the inflatable basketball court.
At 5pm The Palm Beach Pin-Up Party Band takes the stage and will take you through all of the eras from 1920's, 30's, 40's all the way to the disco era!
While participating in the fun, feel free to walk the lot to shop a thousand of the nicest used cars for sale all in one location, or relax in the spacious 10,000 square foot showroom and order cars through the valet system to be brought around for your inspection.
Join Off Lease Only Palm Beach for the official grand opening TODAY at 1200 South Congress Avenue in West Palm Beach.
About Off Lease Only: Off Lease Only was founded in 1997 by Mark & Eileen Fischer with two cars they bought with their wedding money and a vision to provide a unique and transparent used car buying experience. With locations in Miami, Orlando, West Palm Beach and coming soon to Fort Lauderdale, you are sure to find the car of your dreams priced thousands below retail.