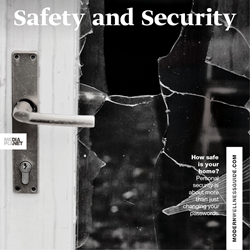 New York, NY (PRWEB) January 05, 2017
Mediaplanet's latest edition of the "Safety and Security" campaign published both online and as an insert within USA Today, aims to inspire individuals and enterprises to reconsider their security and adapt new practices that will better prepare them from intrusion and cyber-attacks.
The print component of the campaign was distributed within the December 19th edition of USA Today in New York, Los Angeles, Phoenix, Houston, Chicago, Dallas, Minneapolis, Detroit, Washington D.C., Baltimore, Chicago, South Florida, Pittsburgh, Cleveland, Cincinnati and St. Louis, with a circulation of approximately 455,000 copies and an estimated readership of 1.5 million. The digital component is distributed nationally, through a vast social media strategy, and across a network of top news sites and partner outlets. To explore the digital version of the campaign click here.
Within the campaign, security mogul and Shark Tank investor, Robert Herjavec, gives us insight into the ways in which our networks are at risk from cyber criminals. In addition, partners MONI and WinMagic lend tips on staying secure at home as well as the important preventative steps to take against having valuable data stolen.
The "Safety and Security" campaign was made possible thanks to SimpliSafe, MONI, WinMagic, iSmart Alarm, the CSAA, the Electronic Security Association and many more!
About Mediaplanet 
Mediaplanet is the leading independent publisher of content marketing campaigns covering a variety of topics and industries such as Health, Education, Lifestyle, Business and Technology, and Corporate Social Responsibility. We turn consumer interest into action by providing readers with motivational editorial, pairing it with relevant advertisers and distributing it within top newspapers and online platforms around the world. Please visit http://www.mediaplanet.com for more on who we are and what we do.