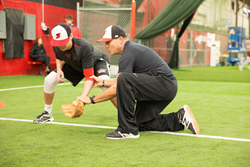 Signing Day is a great chance for all of the student-athletes and their families to get together and celebrate the culmination of every inch it took to get to where they are today.
Bridgewater, NJ (PRWEB) January 06, 2017
Nearly 40 high school athletes from Somerset County will see their college dreams realized Feb. 2, 2017, when Zoned Sports Academy in Bridgewater hosts its 3rd Annual Signing Day event. Cheered on by family and friends, these hard-driving youths will celebrate the next stage of their athletic careers – representing their chosen colleges on the baseball or softball diamond.
It will also be a special day for parents, who have spent countless nights sitting in bleachers, enduring all kinds of weather, cheering on their kids with reckless abandon in the hope that their little sluggers and hurlers might one day make it big.
Zoned student-athletes have earned over $10.3 million in college scholarships. Last year's 37 signing athletes hailed from all over the tri-state area, representing high schools such as Montgomery, Bridgewater, Oratory Prep, Pingry, Watchung Hills, J.P. Stevens, Stroudsburg, Somerville and Ridge. Those student continued their journey to colleges including University of Notre Dame, University of Pennsylvania, Kean University, Monmouth University, Montclair State University, Fordham University, University of Rhode Island, Pomona College, and Caldwell University.
"Zoned Sports Academy strives to give every student-athlete a chance to 'sign,'" said Duke Baxter, owner of Zoned, and himself a former professional baseball player. "Not everyone has the opportunity to sign a National Letter of Intent. So Signing Day is a great chance for all of the student-athletes and their families to get together and celebrate the culmination of every inch it took to get to where they are today."
The staff at Zoned will call up each student-athlete individually to walk the "turf carpet" with his or her family. After posing for a photo and applause for their college signing, each will also receive a "Certificate of Excellence" to recognize all the hard work and effort that brought each to this moment.
"Our ultimate goal is for our kids to play at the collegiate level, and we take great pride in seeing so many of our student-athletes enter the next chapter in their academic and athletic careers," said Baxter. "Some of these kids have trained with us for over 10 years, and we are so proud to see them leave the nest and fly on to bigger and better things. These kids' success is something we all can celebrate."
Zoned Signing Day is scheduled to begin at 7 p.m. Feb. 2, 2017, and athletes will be joined by guests from the professional sports world and the community. The event is open to the public.
About Zoned Sports Academy
Duke Baxter broke the NCAA's single-season Doubles' Record (31) in his senior year at the University of North Florida and went on to play professional baseball for 3 years finishing with the Somerset Patriots of the Atlantic League. In 2002, he founded Zoned Sports Academy as an indoor baseball and softball training facility built on the belief that every person who walks through its doors will be given the tools to be the best he or she can be. As a result, Zoned trains athletes on both the mental and physical aspects of sports, and employs professionals that know what it takes to educate, motivate, and inspire players to exceed their goals and dreams. Baxter, who holds two U.S. Patents for baseball training devices, is a life-long resident of Bridgewater, N.J., where he still resides with his wife and four children. For more information about Zoned Sports Academy, call 732-537-1770 or visit http://www.zonedinc.com.