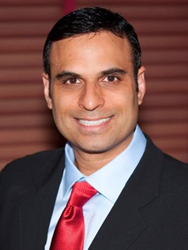 Oak Brook, IL (PRWEB) January 05, 2017
Dr. Amarik Singh recently educated members of his community on the many benefits of laser dentistry in Oak Brook, IL, during a complimentary lecture on soft tissue treatments and peri-implantitis. Dr. Singh is a leading periodontist in the Chicago area who offers cutting-edge treatments, including laser dentistry and dental implants, at his practice, Periodontal Implant Associates. He strongly believes in continuing education and consistently seeks opportunities to learn more about advances in periodontal treatments and technology, as well as share his expertise with others.
During a recent lecture on laser dentistry in Oak Brook, IL, Dr. Singh shared information on how to treat peri-implantitis, which is an infection of the gum tissue around a dental implant. Attendees were also instructed on the difference between traditional treatments and minimally-invasive laser therapy, including the REPaiR™ protocol. Dr. Singh utilizes the REPaiR technique in his cutting-edge practice to treat peri-implantitis; if left untreated, this condition can cause the implant to fail as well as lead to systemic health issues. The REPaiR protocol is used to gently treat periodontal disease by targeting the bacteria that cause the condition.
During periodontal treatment, Dr. Singh utilizes the BIOLASE WaterLase® iPlus™ laser to treat periodontal pockets and initiate natural reattachment of the gums. Laser periodontal therapy is safe, gentle and accurate and recovery time after laser therapy is minimal. Laser treatments are also minimally-invasive, effective, and provide positive long-term outcomes for many patients.
Dr. Singh invites patients with peri-implantitis or periodontal disease to visit his practice for a laser therapy consultation. Appointments for laser dentistry in Oak Brook, IL can be scheduled by calling Periodontal Implant Associates at 630-424-9404.
About the Doctor
Periodontal Implant Associates is a periodontal practice offering personalized dental care for patients in Oak Brook, IL and the Chicago area. After graduating from Northwestern University Dental School, Dr. Amarik Singh went on to obtain his Specialty Certificate in Periodontics and earn his Master's from Northwestern University. Dr. Singh is deeply committed to continuing education and prides himself on remaining on the cutting-edge of the newest techniques and technology in dentistry. Dr. Singh has placed over 15,000 dental implants using a minimally-invasive technique and is part of an elite group of dental professionals at the forefront of the Chao Pinhole® Surgical Technique (PST™), a revolutionary new approach to repairing gum recession. To learn more about the periodontal services available at Periodontal Implant Associates, please visit http://www.pidentists.com or call (630) 424-9404.