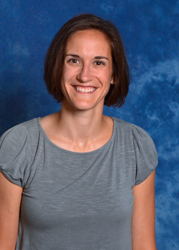 "For many women experiencing severe perinatal depression, a once-a week-therapy session may not bring them relief from their symptoms."
PITTSBURGH, Pa (PRWEB) January 06, 2017
Allegheny Health Network has launched the region's first Intensive Outpatient Program for women suffering from pregnancy-related depression, a condition that affects up to 20 percent of new mothers.
An emerging treatment concept now in place at just 11 hospitals nationwide, the Intensive Outpatient Program brings mothers to West Penn Hospital three times a week for three hour sessions of therapy and group discussions, as well as alternative treatments such as yoga and light therapy.
The program is directed toward women experiencing more severe forms of perinatal depression, meaning depression that happens during pregnancy or up to a year after delivery. The most commonly known form of perinatal depression is postpartum depression, which affects between 11 and 20 percent of women who give birth each year, according to the Centers for Disease Control and Prevention.
"For many women experiencing severe perinatal depression, a once-a-week therapy session may not bring them relief from their symptoms," said Sarah Homitsky, MD, director of the women's perinatal psychiatry program at West Penn Hospital, part of the Allegheny Health Network. "In the intensive outpatient program, we can observe these patients closely and adjust treatment plans depending on their progress."
Symptoms of perinatal depression may include crying, insomnia, fatigue, appetite changes, loss of enjoyment in activities, anxiety, and difficulty forming an attachment to the baby. The "baby blues," a less-serious condition, has similar symptoms but typically resolves by two weeks post-delivery.
Some women may not seek treatment because they feel guilty about being depressed at a time of their lives that should be happy, or because they experience the stigma attached to mental health problems.
Women in the Intensive Outpatient Program are encouraged to bring their babies, removing a barrier for women who don't want to leave their babies to get treatment, and allowing doctors to observe mother-baby interactions and offer encouragement or support. Spouses or partners may also participate.
"We recognize that perinatal depression is a family issue. It affects the mother's relationship with her child and her spouse, and can ultimately impact the baby's development," said Rebecca Weinberg, PsyD., AHN clinical psychologist specializing in women's behavioral health. "We want mothers to stay physically and emotionally connected to their families throughout the healing process."
Grants from the Alexis Joy D'Achille Foundation, Highmark Foundation, the Jewish Healthcare Foundation and Staunton Farm Foundation helped provide seed money for the program.
In 2015, AHN and the Alexis Joy D'Achille Foundation created a partnership to expand awareness and treatment of perinatal depression. AHN's new Intensive Outpatient Program is part of a major expansion of services for women suffering from perinatal depression. All new mothers in AHN OBGYN practices are screened twice during pregnancy and once after pregnancy for depression and bipolar disorder, and those who screen positive can be quickly connected with a clinician from the Women's Behavioral Health team.
To make an appointment, or to obtain more information about Women's Behavioral Health at AHN, call 412.578.4030.
About the Allegheny Health Network:
Allegheny Health Network (AHN.ORG), part of Highmark Health, is an integrated healthcare delivery system serving the Western Pennsylvania region. The Network is comprised of eight hospitals, including its flagship academic medical center Allegheny General Hospital, Allegheny Valley Hospital, Canonsburg Hospital, Forbes Hospital, Jefferson Hospital, Saint Vincent Hospital, Westfield Memorial Hospital and West Penn Hospital; an employed physician organization, a research institute, health + wellness pavilions, home and community-based health services and a group purchasing organization. The Network employs approximately 17,500 people, and has more than 2,100 physicians on its medical staff. The Network also serves as a clinical campus for Temple University School of Medicine, Drexel University College of Medicine and the Lake Erie College of Osteopathic Medicine.