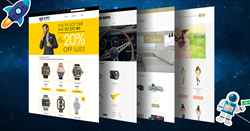 Tamarac, FL (PRWEB) January 06, 2017
3dcart, the leading all-in-one eCommerce solution, announced the opening of their 3dcart Design Sweepstakes in which they will award over $50,000 in prizes to qualifying 3dcart merchants.
The Sweepstakes is open to all active 3dcart merchants during the month of January, including new members, and offers multiple ways to earn entries such as engaging on social media, answering questions and creating a video or blog post. Winners will be determined by number of entries accrued, using a random drawing in the event of a tie.
First Prize is a free Business Design Package, valued at $5,499. Other prizes include a free Startup Design Package (2nd Place, $2,999 value), a free Theme Customization (3rd Place, $799 value), a free premium theme valued at $199 for 10 more winners, and an additional 100 winners will receive a $500 credit towards any design package.
3dcart's web designers are some of the best in the industry, and during the Design Sweepstakes, every 3dcart merchant has a chance to participate and win a professional redesign for their site. 3dcart's design packages are built to cutting-edge standards and optimized for conversions. Rather than paying thousands of dollars for these services, 3dcart merchants can earn sweepstakes entries through activities such as referring others and being active on social media.
For more information about 3dcart's Design Sweepstakes and to enter, visit the official announcement in the 3dcart blog.
About 3dcart
3dcart, located in Tamarac, Florida, is an All-in-One eCommerce solution for retailers to build, promote and grow their online stores. 3dcart's services include the best Technical Support in the industry, 100+ Mobile-Ready Themes featuring the latest technology, order management software, blog, email marketing tools and more. Since 1997, the company has been a leader in the eCommerce market, building online stores for businesses of all sizes. Today, 3dcart supports over 17,000 retailers, is Visa PCI Certified and a Google Partner.