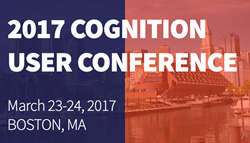 We're very excited about this year's conference. It's bound to be a thrilling time for all.
Lexington, Massachusetts (PRWEB) January 09, 2017
Cognition Corporation, a software company specializing in medical device compliance and commercialization, has announced its 2017 Cognition User Conference. It will be hosted at the majestic Boston Marriott Long Wharf Hotel in Boston, Massachusetts March 23-24.
"We're very excited about this year's conference," says David Cronin, CEO of Cognition Corporation. "It's bound to be a thrilling time for all."
This year's user conference has been extended to two days based on feedback from years past, says Mr. Cronin. With the incorporation of a second day, attendees can expect a greater number of topics covered, along with workshops that go in-depth about Cognition's Cockpit Platform and its features. Talks will showcase figures from across the medical device, pharmaceutical, and combination industries discussing current challenges and solutions, as well as smaller organizations reviewing how they use Cockpit as their premier solution for risk management and design controls in product development.
Along with talks and workshops, there are a number of events lined up that attendees can participate in. Cognition invites guests who arrive early to a cocktail reception on the evening of March 22. An elegant dinner and awards banquet will be held on March 23, and for those guests who choose to stay after the conference on March 24, Mr. Cronin will be hosting a historic walk and pub crawl through the city of Boston.
"It's going to be an informative two days, but it'll also be fun," says Mr. Cronin. "We at Cognition look forward to seeing all our customers and friends."
To register for the conference, please visit http://www.cognition.us/user-conference. Discounted hotel rates are available for those who book now—but hurry, space is limited.
Cognition Corporation, based in Lexington, Massachusetts, has offered solutions for product development compliance for more than fifteen years. Cognition offers two core products: Cognition Cockpit™ and Cognition Compass™. Thousands of users worldwide use Cognition solutions to manage their product development process and meet regulatory, performance, and-time to-market goals. For more information, visit http://www.cognition.us or call (781) 271-9300.