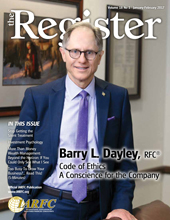 I encourage every RFC® registrant to memorize the five-point code of ethics of the IARFC. It will be a clarion guide to maintaining long-term relationships with clients, employees and associates... Barry Dayley, RFC®
Middletown, OH (PRWEB) January 09, 2017
Ethical behavior was drilled into Dayley during his student tenure at Brigham Young University majoring in financial and estate planning. At that time, he was introduced to an impactful corporate philosophy by the founder of Money Concepts Jack Walsh, which included a simple but powerful list: integrity, commitment, fairness, credibility and opportunity. This mantra was engrained in Dayley during the formative years of his career and endured as he paralleled the coming of age of the financial planning industry in the United States. Currently as an officer of Money Concepts International, he travels extensively and develops business relationships and opportunities in the US and overseas.
His time and experience in financial services has taught him that fundamentally the consumer is looking for advice they can trust. They want to work with a financial consultant who has the knowledge, experience and skills to help them achieve their personal objectives ─ one who truly cares about them. "People want to know what to do financially, not just be sold a product," relates Dayley. "If advice is provided in the context of a financial plan, it will establish the foundation of a trusting and lasting relationship."
Regarding the fiduciary responsibilities and maintenance of the ethical conscience of their companies, Dayley feels the imminent DOL changes will affect every financial consultant with higher expenses and substantial time to establish policies and procedures. According to Dayley, clients and the general public as they learn more about the DOL fiduciary rules, will expect more transparency in the relationship and will have an expectation that their personal goals are represented. "For those professionals who have always had the client's best interest in mind when making recommendations, the new regulations will not change that," continues Dayley. "However, for the financial consultants who play more of a product sales role, they may find compliance difficult, if not impossible."
As an ongoing commitment to their members and the public, the IARFC has initiated an Ethics Approval Program designed to promote adherence to their Code of Ethics. "Our new program fits in quite nicely with the consumer's need to validate a financial professional," advises IARFC Chairman H. Stephen Bailey. "This extra effort towards transparency elevates the level of confidence and trust needed in a client/consultant relationship. Barry Dayley's career and philosophy is an example of the quality of members we support in our Association."
To read the entire article on Barry Dayley, RFC® and his career dedicated to ethical behavior, go to http://www.iarfc.org and download the Jan/Feb issue of the Register.