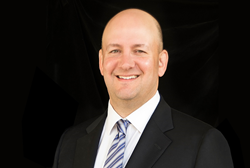 Atlanta, GA (PRWEB) January 10, 2017
Gables Residential, a leader in the development and management of multifamily apartment communities, welcomes John Akin as Executive Vice President and Chief Investment Officer for Gables Residential.
John most recently served as the Chief Investment Officer and Chief Financial Officer at the Flournoy Companies. While at Flournoy, John led the corporate strategy and capital markets execution across all disciplines while also driving the development and disposition initiatives company-wide. Prior to Flournoy, John was the Senior Vice President at Carter where he was responsible for the multi-family investment and development efforts on behalf of the Carter Funds. In addition, he was Senior Vice President of Development and Investments for the Novare Group. Throughout his real estate career, John has led the financing, development and acquisition of nearly $2 billion worth of multi-family and mixed-use projects totaling more than 7,000 apartment homes.
Sue Ansel, Chief Executive Officer for Gables Residential commented, "We are proud to have John join our seasoned team of executives. His leadership style, qualifications and aptitudes will certainly be a tremendous asset to our organization. He has proven to be a strong leader during his successful career, and we certainly look forward to his contributions company-wide."
John is active with the National Multi Housing Council and serves on the board of the Fort McPherson Redevelopment Authority. John received a Bachelor of Business Administration from the University of Georgia and an MBA from Duke University. He is an Atlanta native and enjoys spending quality time with his wife and three adult children.
# # #
About Gables Residential
Gables Residential is an award-winning, vertically integrated, real estate company and privately held REIT specializing in the development, construction, ownership, acquisition, financing and management of multifamily and mixed-use communities. Gables Residential owns, develops and manages communities in high-growth U.S. markets such as Atlanta, Austin, Boston, Dallas, Denver, Houston, South Florida, Southern California and metropolitan Washington, D.C. Gables also provides third party management services in the New York, Baltimore, Frederick, Tampa, Phoenix, Seattle, Charlotte, Central and North Florida markets.
Gables manages over 31,000 apartment homes and approximately 550,000 square feet of retail space and has received national recognition for excellence in development, construction, management, sales, marketing, learning and development, benefits and corporate accommodations. These achievements reflect the impact of our experienced and dedicated team members, our superior knowledge of the markets served, and our expertise in development and management.