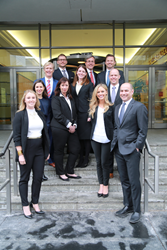 "Our goal is to continue to operate a best-in-class real estate advisory business that provides the highest level of tenant advocacy, analytics and advisory services to clients.
Denver, CO (PRWEB) January 09, 2017
Savills Studley, the leading commercial real estate services firm specializing in tenant representation, announces that Executive Vice President, Director and Central Region Lead Rick Schuham will oversee the brokerage operations and management of the company's burgeoning Denver office.
Industry veterans Todd Roebken and Greg Bante, Executive Managing Directors, who recently joined Savills Studley from JLL, will lead the charge alongside Schuham in the resource-rich office. As Denver's only pure global tenant representation firm, Savills Studley provides a full suite of services to the city's most impactful businesses and organizations. The firm's platform includes brokerage, consulting, workplace strategy, project management, space planning and lease administration.
Savills Studley is also pleased to announce the addition of David Welker as Corporate Managing Director, and new Managing Directors Michael Deatly, Brady Alshouse and Jessica Kokish. Sheila Sheehy and Mara Andreano have also joined the Denver office as Client Service Managers. These new additions all come to Savills Studley from JLL, where they worked under Roebken and Bante.
"Our goal is to continue to operate a best-in-class real estate advisory business that provides the highest level of tenant advocacy, analytics and advisory services to clients drawing from Savills Studley's local, regional, national, and global platform. The addition of Todd, Greg, and their talented team immediately takes us to the top of the market from a reputation, capability and commitment perspective," said Schuham. "Looking forward, we will create a collaborative and fun live-work atmosphere where our expectations for office productivity and client service experience are matched by our civic engagement and professional development programs."
Rick Schuham, a 28-year industry veteran with strong roots in the Mile High City, first joined Studley in 1991 and opened the Denver office in 2001. Schuham has a proven track record of creating dynamic, top-producing teams in Chicago; he has executed some of the largest and most complex real estate transactions in the city's history as well as some of the country's most high profile projects. Schuham is a University of Colorado graduate. Rick will continue to act as the Central Region Lead, overseeing both Denver and Chicago and is working on significant client engagements across the country and internationally.
Todd Roebken and Greg Bante join Savills Studley as Executive Managing Directors and have 26 and 22 years of experience respectively. Roebken and Bante are highly accomplished brokers, not only in executing market-leading client projects in metropolitan Denver, but also in managing multi-market client portfolios. The duo is known for bringing tenants the perspective and advocacy required to effectively navigate and negotiate large transactions in Metropolitan Denver. Bante and Roebken have both been included on the Denver Business Journal's 40 under 40 list.
Todd Roebken has consistently been recognized as one of the most effective and successful tenant representatives in Denver. He has been named by the Denver Business Journal and JLL as a Denver Top Producer multiple times, and has recently executed strategic plans and multiple transactions for Denver's most prominent companies. Roebken is currently on the Board of Trustees for the Mile High United Way, Volunteers of America and is a past President of the Association for Corporate Growth Denver Chapter. Prior to JLL, he served as Managing Principal at CRESA Denver and Grubb & Ellis.
"Savills Studley's extensive tenant-focused platform and global position provide the ideal resources to service our portfolio of clients," said Roebken. "Greg and I are extremely pleased to join the leadership team here in Denver, and look forward to working with Studley's roster of national industry-leading real estate professionals."
Greg Bante has also been regularly named as a top area producer by the Denver Business Journal and at JLL. Bante has recently completed transactions on behalf of local, national and international companies. He currently serves on the Board of Governors of the Metro Denver Economic Development Corporation, the Board of Directors for National History Day in Colorado and City Year Denver.
"Savills Studley is known for its pioneering corporate history, international reach and innovative best-in-class service," added Bante. "These same qualities are reflected in the businesses attracted to and most quickly growing within Denver."