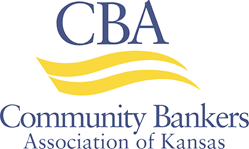 CBA exists because we care about the existence and success of community banks as a whole.
Topeka, KS (PRWEB) January 10, 2017
In the midst of changing and toughening bank regulations, many community banks in Kansas struggle to stay on top of compliance while maintaining their core focus on customer relationships and success. Across Kansas, and nationwide, community bankers wade through piles of papers and checklists for days related to compliance. Many of these checklists are connected to tasks like approving mortgages or business loans, and previously took only hours before the increasing regulations were handed down.
These regulatory tasks, handed down from Federal sources, cost banks significant hours of employee time and expense – time they'd rather direct toward strengthening their local community families and businesses. After months of research, CBA announces a new compliance resource that will be among the best resources community banks can receive in 2017. The program, called Community Bankers for Compliance (CBC), will assist banks in reducing risk of regulatory actions for common compliance issues and includes easy phone access for compliance questions, up-to-date compliance news and webinar trainings.
CBC is a program designed to help bankers establish a valid compliance program and reduce the risk of failing to provide adequate training to bank employees on compliance issues. With CBC, banks can streamline their regulatory tasks with total accuracy, save on costs related to compliance and operate more efficiently. Essentially, CBC makes it easier and less expensive for community banks to meet regulatory needs by having a more streamlined ability to continue meeting customer needs. It is sponsored by CBA and presented by Young & Associates, a national leader in compliance and regulatory solutions for banks.
"CBA exists because we care about the existence and success of community banks as a whole," said Shawn Mitchell, president and CEO, CBA. "We recognize that banks are the lifeblood of Kansas communities, and we know that hometowns throughout the state suffer when their banks can't meet specific challenges. CBC is engineered to assist these banks in easily jumping over those common hurdles."
When community banks sign up for CBC, they will receive services including:

Live seminars and manuals
Regular compliance updates in Compliance Update newsletter
Quarterly regulatory update webinars
Compliance hotline with a quick response for needed information
Proven and practical training that has approval from regulatory agencies
User-friendly compliance techniques, such as setting up compliance files, developing training programs, resolving disputes and responding to examinations
"CBA believes that every community bank deserves the best opportunities to better serve their customers and keep moving forward, which is exactly what the CBC can provide. With this new tool, we're allowing community banks to be what they are intended to be," said Mitchell, "and to serve their local customers in the most authentic ways possible."
A complimentary live webinar to introduce and explain the program is offered on Friday, Jan. 13, 2017, at 10 a.m. CST.
Visit http://www.cbak.com to register or contact the office at (785) 271-1404.
About CBA of Kansas
Community Bankers Association of Kansas was formed in 1978 by a group of dedicated community bankers, and is the state's only advocate working solely for the interests of community banks and their customers. CBA helps keep Kansas families, businesses and hometowns strong through advocacy, networking and education that empower community banks for success. The organization's mission is to "enhance the profitability of community banks by marketing quality products and services." In fulfilling this mission, CBA continues to meet the challenges of a changing financial industry, emerging as an effective and committed voice for community banking in Kansas. Read more at http://www.cbak.com.