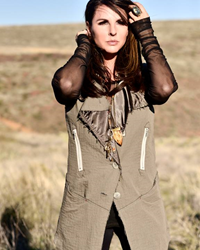 I am thrilled to have the opportunity to open for Lisa Loeb in L.A.
Nashville, TN (PRWEB) January 10, 2017
Singer-Songwriter Raquel Aurilia announced she is kicking off the New Year with live performances in Nashville and Los Angeles in January. Raquel will perform in Music City's Spotlight615 Showcase on Friday, January 13th at 6pm at South Nashville. Plus, Raquel will open for Lisa Loeb at The Canyon Club in Agoura Hills on Friday, January 27th 8pm in Los Angeles.
"What a fantastic way to kick off 2017 performing in Nashville plus I am thrilled to have the opportunity to open for Lisa Loeb in L.A.," says Raquel Aurilia. "It's always a blast to hit the road and I am looking forward to an incredible year ahead!"
Besides touring, Raquel is also thrilled to announce her music is now being played around the globe on the "The Pat Stone Show" on BrightSkyRadio.com. Pat's variety shows in the U.K. and New Zealand will be featuring her songs including: "Long Way Home", "I'll Be Here", "Shattered", "There's Still Time", "Little Things I Love" and "Reach for the Stars".
Recording Artist Raquel Aurilia has previously toured opening 25 U.S. cities for John Waite and has opened for B.B. King, Gin Blossoms, Eddie Money, Pat Benatar, Riders in the Sky. She has worked with Grammy Award winning producer Tony Papa (James Brown, Willie Nelson, John Denver) and Gardner Cole (Madonna, Jodi Whatley), as well as Grammy nominated producer Billy Smiley (Bebe and Cece Winans, Vince Gill, Johnny Cash) on her "Long Way Home" album. Aurilia's music has been featured in MTV's hit series "The Hills," "The City" and "Taking the Stage."  Her latest music video for "Shattered" can be viewed at https://youtu.be/kcUA4D6tfgo.
Raquel's hit single "Feels Like" from her debut record, "Finding My Way," cracked the ultra-competitive R&R Top 30 AC and Billboard Hot Adult Contemporary charts at #28, and is still receiving national air play today. 
Upcoming Tour Dates - Raquel Aurilia
Jan 13 – Nashville, TN - South (Spotlight615 Showcase)
Jan 27 – Los Angeles – The Canyon Club in Agoura Hills (opening for Lisa Loeb)
Weblinks: http://www.RaquelAurilia.com / http://www.twitter.com/raquelaurilia / https://www.facebook.com/RaquelAurilia / http://www.instagram.com/raquelaurilia /
To arrange press interviews with Raquel Aurilia, contact Publicist Liz Motley at LizMotley(at)me(dot)com.
###
Suggested Tweet:
.@RaquelAurilia News: Raquel performs @SouthNashville 1/13 & opens for @LisaLoeb @CanyonClub 1/27 #NewYear