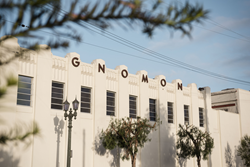 The BFA program builds carefully on the time-tested success of Gnomon's signature vocational programs
Hollywood, California (PRWEB) January 10, 2017
Gnomon – School of Visual Effects, Games and Animation in Hollywood, California, will begin accepting applications for its first Bachelor of Fine Arts in Digital Production in 2017. The full-time, four-year BFA degree program is the result of ten years of institutional planning and is positioned to strengthen further Gnomon's 20-year mission to offer education that prepares students for careers in the field of digital entertainment.
Called "the MIT of visual effects" by Fast Company magazine, Gnomon was founded in 1997 by Alex Alvarez, who pioneered the earliest instructional efforts teaching entertainment studios the original 3D hardware and software. For two decades, Gnomon has educated many of the world's best digital artists with its full-time vocational programs and individual courses for professional enrichment. The school has been both purposeful and unhurried with Gnomon's baccalaureate efforts to fully ensure the BFA degree program resolutely meets the needs of its students' career aspirations and is consistent with Gnomon's goals, objectives, and mission.
Gnomon Founder and CEO, Alex Alvarez, says: "The hard work and support of so many, including staff, instructors, our advisory board, students, studios, and our amazingly talented alumni, are a testament to Gnomon reaching this milestone. We are extremely proud that, together, we have been able to design a degree that maintains Gnomon's standard of industry-specific education while providing our students with an additional tool to help with the launch of their careers. We at Gnomon work very hard to improve constantly, and I do believe that the degree is another step along that journey."
Renowned for offering a vibrant curriculum that prepares students for future success with knowledge and skills that alumni can draw on for the duration of their professional lives, Gnomon boasts a continuing stellar placement rate – currently 96%* for 2016. The BFA program builds carefully on the time-tested success of Gnomon's signature vocational programs and is designed to produce production-ready artists who are versed in general academic knowledge, foundational arts, and production skills. The curriculum will cover all aspects of a 3D generalist skill set, providing an in-depth understanding of the 3D production pipeline, and a strong foundation in both visual arts and general education studies.
Jerome Denjean, Head of CG at Blur Studio in Culver City, California, comments: "Gnomon is known for teaching real-world skills that apply directly to the market, producing graduates ready to work and grow in the VFX and animation space. Blur has hired several Gnomon alumni over the years, and they've all been able to make an impact very shortly after their graduation. It only makes sense that Gnomon would evolve to offer a BFA program and continue to create qualified contributors to this industry."
Gnomon is now accepting applications for the BFA degree and will officially launch the program in the Fall of 2017. Visit https://www.gnomon.edu/programs/digital-production-bfa. Admissions inquiries should be sent to admissions(at)gnomon.edu. All media inquiries should be directed to media@gnomon.edu.
*Percentage reflects the average placement rate of Gnomon's vocational programs in accordance with national accreditation standards of the Accrediting Commission of Career Schools and Colleges (ACCSC). Visit http://www.gnomon.edu and see Consumer Disclosures for more information.
ABOUT GNOMON – SCHOOL OF VFX, GAMES + ANIMATION
Gnomon – School of Visual Effects, Games and Animation specializes in computer graphics education for careers in the entertainment industry, offering a variety of educational options to help students reach their goals in the entertainment industry, with full-time programs, specialized courses for high school students, and over 100 individual courses for professional enrichment. Gnomon offers an unrivaled experience for students and was awarded School of the Year by the CG Student Awards in 2014 and 2015 and honored with the 2015 School of Excellence Award at the 9th Annual ACCSC Professional Development Conference. Visit http://www.gnomon.edu.