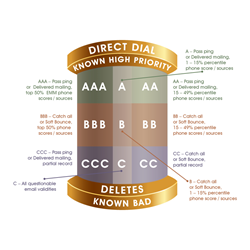 ""Double Verified" and our other various delivery data points, as well as human phone sample scoring have all been rolled into the new hierarchy with Needle and Thread. We've consolidated quality into a single actionable, application based groups."
Chicago, Illinois (PRWEB) January 12, 2017
Every Market Media (EMM), the Chicago based Global leader in data supply for marketing services companies, announced its new Needle and Thread B2B database structure without delay at the turn of the new year.
Needle and Thread is the name for the newest iterative EMM approach to publishing B2B data to its correct application as quickly as possible. Formerly, changes of all priorities and qualities were batched into quarterly updates making nimble action on new quality feedback or great data sets less effective.
"The new structure makes it easy to focus on getting data into the areas that are getting results for our clients, executing rapidly on high priority changes and getting the best data to market right away," said EMM's Founder, Richard Holmes on an episode of the Corporate Data Show podcast.
Under 1.17.1 (Needle and Thread) 128 million B2B contact records from most probable to be a direct dial with a multi-point confirmation deliverable email (AAA) through suggested deletions (D), making it the easiest to consume version published yet. It positions the database for real time patching, verification and net new as fast as clients can take them in.
""Double Verified" and our other various delivery data points, as well as human phone sample scoring have all been rolled into the new hierarchy with Needle and Thread. We've consolidated quality into a single actionable, application based groups," says Amanda Kohl, COO.
An outline of the new structure can be found on Every Market Media's website and can be ordered in the new format effective immediately.
For press inquiries, data cards, layouts or counts for your application please contact marketing(at)everymarketmedia(dot)com .