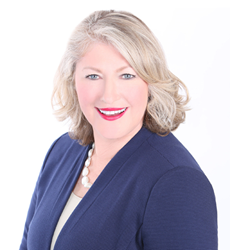 Bronxville and Pelham, N.Y. (PRWEB) January 10, 2017
Julia B. Fee Sotheby's International Realty today announced that seasoned real estate agents Holly Mellstrom, Kristin Bischof, Alison Schair-Trigona and Elizabeth Ritchie have joined the firm and will be based in the Bronxville, N.Y., brokerage. Holly Mellstrom has ranked as the highest producing real estate agent in the Pelham, N.Y., marketplace for five of the past six years including 2016, as well as one of the top producers in all of Westchester County. Mellstrom, who achieved more than twice the sales volume of her nearest local competitor in 2016, represents approximately $46 million in volume annually.
All four agents most recently served as sales associates with the Pelham-based affiliate in the global Sotheby's International Realty® network, McClellan Sotheby's International Realty. The four stated that they chose to move to Julia B. Fee Sotheby's International Realty due to the firm's position as the luxury real estate brand's #1 affiliate in dollar volume worldwide, as well as its broader regional network.
A Pelham resident since 1997, Mellstrom specializes in estates, complex transactions and concurrent purchases and sales. She offers clients an extensive network of local and global resources, as well as her intimate knowledge of the market. Mellstrom has served two terms on the Westchester County Board of Directors, and currently sits on the organization's Professional Standards and Ethics Committee. She is also involved in the local schools, and has held positions on the boards of the Junior League of Pelham, Pelham Children's Center and Siwanoy PTA. Prior to real estate, Mellstrom enjoyed a successful marketing career including positions with Procter & Gamble, Showtime Networks and Pepsi-Cola.
"I am so excited to welcome such an accomplished and extraordinary sales professional to our firm," said Virginia Doetsch, manager of Julia B. Fee Sotheby's International Realty's Bronxville brokerage. "Holly brings a passionate devotion to service, an incredible depth of knowledge and a tremendous record of success in Westchester County. I look forward to supporting her business with all of the vast and powerful resources available through our company and brand."
A native of Westchester County, Kristin Bischof brings unparalleled knowledge of the area, particularly Pelham and neighboring City Island. Following a successful career in marketing and sales, she quickly became a top producer in real estate, specializing in first-time homebuyers and luxury waterfront homes. A mother of two children, Bischof is also actively involved in the community and has first-hand knowledge of the area's preschool, elementary and middle school activities. She currently serves on the Board of County Harvest, is the former president of the Pelham Junior League, has served on the board of Huguenot Nursery School and Pelham Children's Center, and was active in the Colonial School PTA for many years.
With more than 15 years of experience in real estate, Alison Schair-Trigona formerly held corporate and management positions with Houlihan Lawrence and McClellan Sotheby's International Realty. Her background in brokerage management provides her with a deep understanding of how to provide the best level of service to buyers and sellers, including attention to detail and a skill for listening carefully to their individual needs. In addition, as a resident currently of Edgemont and formerly of Scarsdale and Manhattan, she brings astute knowledge of all the communities of Southern Westchester as well as a sophisticated understanding of the market.
Ritchie has brought to her career as a sales associate in both Westchester County and Manhattan 15 years of invaluable experience in executive roles with several Fortune 500 health care companies such as Cigna, United Healthcare and WellPoint. As a calm and trusted advocate for her clients, Ritchie works to provide superior service tailored to each client's unique situation. She helps her clients to make wise decisions in their real estate and investment opportunities. Ritchie currently resides in Pelham with her husband and two young children. She is a Provisional Member of the Junior League of Pelham and active in the Huguenot Nursery School Parents Committee.
"All four of these wonderful agents are highly regarded in the world of Westchester County real estate," said Doetsch. "Representing some of the highest sales in the area, there is no doubt that they are passionate about each of their transactions. As we welcome Holly, Kristen, Alison and Elizabeth to our Bronxville team, we are thrilled to also be welcoming a whole new wealth of expertise in the Pelham, N.Y., market to our firm."
About William Pitt and Julia B. Fee Sotheby's International Realty
Founded in 1949, William Pitt and Julia B. Fee Sotheby's International Realty manages a $3.9-billion portfolio with more than 1,000 sales associates in 28 brokerages spanning Connecticut, Massachusetts, and Westchester County, New York. William Pitt and Julia B. Fee Sotheby's International Realty is the largest Sotheby's International Realty(R) affiliate globally and the 28th-largest real estate company by sales volume in the United States. A full-service real estate firm headquartered in Stamford, Connecticut, William Pitt and Julia B. Fee Sotheby's International Realty provides ancillary services including commercial services through its affiliation with Building and Land Technology, a second-generation development company based in Stamford, Connecticut; William Pitt Insurance Services; and an award-winning global relocation division. For more information, visit the website at williampitt.com.
Sotheby's International Realty's worldwide network includes approximately 19,000 sales associates located in approximately 850 offices throughout 65 countries and territories.