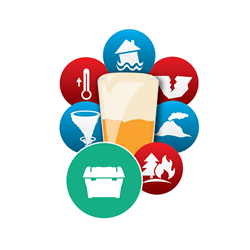 RSVP at ShelterBoxUSA.org/sarasotaevent
Sarasota, FL (PRWEB) January 10, 2017
International disaster relief organization, ShelterBox, has scheduled a public event in Lakewood Ranch not too far its U.S. headquarters. Drafts for Disaster Relief will take place at Gold Coast Eagle Distributing (7051 Wireless Ct, Sarasota) on Thursday, February 2nd from 5:30 pm to 8:00 pm. The event will give the public the opportunity to see up close the assortment of ShelterBox's emergency aid, including: A complete ShelterBox, ShelterKit, Family Relief Tent, LuminAid solar lamps, ThirstAid Station water purification system, children's activity packets as well as blankets, bedsheets and tool kits.
Entertainment will be provided by the hit local band, Kettle of Fish. Combining blues, soul and funk with the energy of rock and roll, Kettle of Fish is one of the hottest live acts in Southwest Florida, opening for such acts as Eddie Money, Marshall Tucker and Elvin Bishop.
Complementary food options at Drafts for Disaster Relief include catered bites from Fresh Kitchen and Nancy's BBQ, with more options being added. The event will also offer complementary refreshments including craft beer, wine and soda.
In addition, area Rotary Clubs are invited to represent their Club and the global Rotary network. In 2012, ShelterBox became Rotary International's first Project Partner, enabling both organizations to collaborate more closely to bring relief and shelter to survivors of disasters worldwide.
Event sponsors include BMO Harris Bank and Midyett Dutoit Property Team of Keller Williams Realty.
Suggested donation is $20. RSVP at ShelterBoxUSA.org/sarasotaevent
ABOUT SHELTERBOX
ShelterBox is an international disaster relief charity that provides immediate emergency shelter and other lifesaving aid to survivors of a disaster or humanitarian crisis.
ShelterBox aid is tailored to each disaster but typically includes tented shelter, thermal blankets and groundsheets, water purification equipment, solar lights, cooking utensils, a tool kit, mosquito nets and children's activity packs. ShelterBox responds to a new disaster every two weeks, on average. Notable disaster responses include: 2016 Haiti following Hurricane Matthew, Ecuador earthquakes, 2012-present Syrian Refugee Crisis, 2015 Nepal earthquakes, 2013 Philippines Typhoon Haiyan, 2012 Haiti Superstorm Sandy, 2011 Japan earthquake & tsunami, and 2010 Haiti earthquake. ShelterBox has deployed in the United States following Hurricane Katrina, Superstorm Sandy and the tornadoes in Oklahoma and Alabama.
ShelterBox Response Team (SRT) members volunteer their time to deploy with the aid and ensure it is delivered to the survivors that need it most. The work of ShelterBox is made possible through our passionate volunteers as well as ongoing contributions from individuals, foundations and corporations.
ShelterBox USA
7359 Merchant Court, Lakewood Ranch, FL 34240
941.907.6036 • ShelterBoxUSA.org