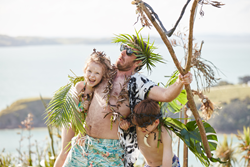 AUSTIN, Texas (PRWEB) January 11, 2017
Crammed commutes, hollering hotel neighbors, and shuddersome shared spaces – actor and comedian Nick Offerman urges people to "Get HomeAway® from it All" in the vacation rental company's newest television ad campaign.
In a follow-up to HomeAway's Clio award-winning "It's Your Vacation, Why Share It?" campaign of 2016, the newest creative again humorously shows the many reasons why getting away in a HomeAway vacation home far outweighs staying in a hotel or paying to sleep under the same roof as a complete stranger.
"The weight of all that is happening in the world, from politics to our daily routines, has everyone in search of relief. People want to get away from it all, to disconnect and spend time with loved ones," said Mariano Dima, HomeAway chief marketing officer. "Vacation rentals are the ultimate solution because they offer the space and privacy that other accommodations just can't provide, and so we created this campaign to show everyone how much better renting a whole home can be."
The new ads underscore why travelers should stay in a vacation rental by showing unsavory characters and awkward circumstances in hotels and sharing economy accommodations contrasted with a serene vacation home and time spent with loved ones. As voice talent, Offerman captivates viewers with a catchy rhyme, "Get away, get HomeAway, from work and rules and hosts that wanna hang. A whole home, so far away. You've got all this room to roam, it's better than my house at home."
Directed by Tom Kuntz, a multi-award winning director known for his Old Spice commercial, "The Man Your Man Could Smell Like," the ad is airing in the U.S. and in Europe on television and online. It is presented in 120, 60, 30, 20 and 15 second formats and the music for the spot was recorded in Studio Two of London's famous Abbey Road Studios.
"We are proud to help grow vacation rentals from an alternative way to stay to a preferred one, but there are still millions of travelers who have not yet discovered the benefits of staying in a whole home; we aim to change that," said Steve Stamstad, HomeAway vice president of global brand marketing. "This is our most aggressive marketing effort to date, as we strive to grow awareness of HomeAway and drive more travelers to book with us."
The campaign was developed by HomeAway in partnership with Saatchi & Saatchi, London, and filmed in New Zealand. Blue449 handled the media planning and buying. The ads will air in the U.S. on networks such as ABC, Bravo, HGTV and Food Network as well as ITV, C4 and Sky in the UK, TFI and M6 in France and Disney Channel and VOX in Germany. In addition, there will be a social media campaign using 20 and 15 seconds cut downs, which will be promoted across online channels including Facebook, Twitter and Instagram.
"Renting the whole home is the perfect way for families and groups to reconnect without having to share those special moments with strangers, and with more than one million online bookable properties HomeAway offers the best way to get away from it all," added Stamstad.
About HomeAway
HomeAway, based in Austin, Texas, is the world leader in vacation rentals with sites representing more than one million online bookable vacation rental homes in 190 countries, and is a part of the Expedia, Inc. family of brands. Through HomeAway, owners and property managers offer an extensive selection of vacation homes that provide travelers with memorable experiences and benefits, including more room to relax and added privacy, for less than the cost of traditional hotel accommodations. The company also makes it easy for vacation rental owners and property managers to advertise their properties and manage bookings online. The HomeAway portfolio includes the leading vacation rental websites HomeAway.com, VRBO.com, and VacationRentals.com in the United States; HomeAway.co.uk and OwnersDirect.co.uk in the United Kingdom; HomeAway.de in Germany; Abritel.fr and Homelidays.com in France; HomeAway.es and Toprural.es in Spain; AlugueTemporada.com.br in Brazil; HomeAway.com.au and Stayz.com.au in Australia; Bookabach.co.nz in New Zealand; and Asia Pacific short-term rental site, travelmob.com. The company also operates BedandBreakfast.com, the most comprehensive global site for finding bed-and-breakfast properties, providing travelers with another source for unique lodging alternatives to chain hotels. For more information about HomeAway, please visit http://www.homeaway.com.
© 2016 HomeAway. All rights reserved. HomeAway and the HomeAway logo are trademarks of HomeAway. All other trademarks are property of their respective owners.
About Saatchi & Saatchi (SSF Group)
Saatchi & Saatchi London is known for its strength in creating Loyalty Beyond Reason for its clients' brands, creating powerful and profitable relationships by improving the quality and quantity of conversations that take place about these brands. Saatchi & Saatchi's clients include EE, Kerry Foods, HSBC, Procter & Gamble, Toyota and Visa.
The Saatchi & Saatchi network has 130 offices in 70 countries and 6,500 employees. Saatchi & Saatchi London is part of the SSF Group, a mini group within the Publicis Groupe that unites Saatchi & Saatchi and Fallon. For more information, visit http://www.saatchi.co.uk.