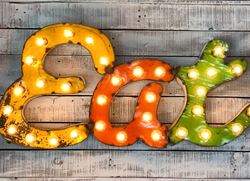 Come peer through the looking glass at Mellow Mushroom Pizza Bakers' newest restaurant location on 2326 N. Henderson Avenue, with an interior influenced by the whimsy of Victorian author Lewis Carroll and the rustic charm of a country farmhouse.
Dallas, Texas (PRWEB) January 15, 2017
Approximately 10 minutes from downtown, Klyde Warren Park, SMU and the Highland Park Village, Luis Gonzalez and Monte Jensen decided to introduce stone baked pizza to the flourishing city of Dallas. They wanted to showcase their admiration for the whimsical and creative author Lewis Carroll. They managed to find a window from a 200-year-old cabin in Kentucky that adorns the entryway of the restaurant. Another fun farm find was from Hamburg Farms, where artists salvaged some wood that once housed six Kentucky Derby-winning horses. Local artist Sean Starr created vintage sign art with popular quotes from Lewis Carroll throughout the restaurant. Along the walls of the dining room is a wraparound mural that gives the viewer the sense of falling through a rabbit hole.
The cuisine at Mellow Mushroom is a great addition to the Dallas restaurant scene. Of course, there are Pizzas and Calzones, but there are also Black Angus Burgers, Salads, Hoagies and delectable Munchies. The colorful menu provides options for guests with Gluten concerns. Mellow even touts a Vegan specialty menu featuring selections such as the Mega-veggie Pizza and Tempeh Hoagie. The little ones have plenty of options as well on the Mellow 4 Kids menu, which provides plenty of activities to keep them busy until their meals arrive and features healthier side items like Organic Apples or Fresh Steamed Broccoli.
Guests have multiple seating options at Mellow Mushroom from the main dining room to the multilevel streetscape patio, which is perfect for peoplewatching. The full service bar is decorated with an array of wide screen televisions and will host a Happy Hour shortly after their grand opening. There is even a private dining room that fits up to 10 people, perfect for birthdays, graduations and company lunches.
Mellow Mushroom has extended creativity from the menu to their own line of apparel and merchandise. House of Shroom has a wearable but stylish outlook on fun threads, some of which can be seen modeled by the team members, stemware and other collectables. Guests can peruse the fashion line and shop from the display near the front of the dining room. To see the complete line from the House of Shroom, go online at http://houseofshroom.com.
Art lovers are able to participate in an online tour of the art at this Mellow Mushroom by following the directions on the plaque at the front of the store. The online tour features a brief summary of the artworks and artists who created the masterpieces just for this Dallas location and connects guests with the artists' online portfolios.
The hours of operations for Mellow Mushroom are from Sunday to Wednesday 11:00 a.m. to midnight and Thursday through Saturday from 11:00 a.m. to 2:00 a.m. For more information, log on to http://www.mellowmushroom.com/store/Dallas and like them on Facebook https://www.facebook.com/MellowMushroomDallasHenderson.
###
About Mellow Mushroom Pizza Bakers: http://www.mellowmushroom.com
Mellow Mushroom Pizza Bakers was founded in 1974 in Atlanta, Georgia. This franchise, operated under Home-Grown Industries of Georgia, Inc., is headquartered in Atlanta, Georgia. For over 40 years, Mellow Mushroom Pizza Bakers has been serving up fresh, stone-baked pizzas to order in an eclectic, art-filled, and family-friendly environment. Each Mellow is locally owned and operated and provides a unique feel focused around great customer service and high-quality food.
For more information on Mellow Mushroom Pizza Bakers, like us on Facebook at http://www.facebook.com/mellowmushroom and follow us on Twitter at http://www.twitter.com/MellowMushroom.