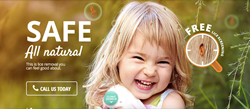 Miami, Florida (PRWEB) January 11, 2017
Lice Master, the all-natural and family-friendly lice removal company, is excited to welcome customers to their newly redesigned website. The new version of the site was designed specifically for improved navigation and overall user-friendly experience.
"When designing the new site we wanted to make sure we were still providing our customers with all the useful information we previously had but in a much cleaner and user-friendly way," says Arie Harel, the owner of Lice Master's parent company, Lice Troopers.
In addition to improved navigation and usability, the new site reflects the overall brand since its recent merge with Lice Troopers. Similar to the Lice Trooper's site, the new Lice Master site is consistently branded throughout with signature Lice Trooper's color way. It also projects the comforting and family-friendly feels of the treatment centers themselves. "We want people who visit our site to feel the same way as they do in our treatment centers – welcomed, appreciated, understood and informed," Harel stated.
Lice Master is inviting customers to visit their new website and offer their feedback on our Facebook page.