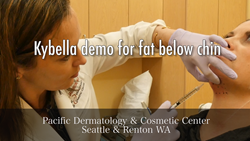 In the past, liposuction or facelift surgery were the only options to address a double chin. It is fantastic that these patients now have a non-invasive, effective option. - Founder of PDCC, Dr. Jennifer Reichel, MD
Seattle, WA (PRWEB) January 12, 2017
Submental fullness, also known as a "double chin," is a common concern among facial aesthetic oriented patients and can impact both men and women. Genetics, weight gain, and aging are possible contributors to this condition.
Sometimes, even with diet and exercise, unwanted fullness beneath the chin may not go away, and it can make a person appear older or heavier than they actually are.
Citing a 2015 survey by the American Society for Dermatologic Surgery (ASDS), Dr. Reichel noted more than two-thirds of aesthetic-oriented consumers are bothered by submental fullness – nearly as many as those bothered by lines and wrinkles around the eyes.
"Clearly, this is an aesthetic feature that troubles a lot of people. In the past, liposuction or facelift surgery were the only options to address a double chin. It is fantastic that these patients now have a non-invasive, effective option," said Dr. Reichel.
KYBELLA® is given during a series of in-office visits, and the injection process may take 15-20 minutes. The active ingredient in KYBELLA® is deoxycholic acid, a naturally occurring molecule in the body that aids in the breakdown and absorption of dietary fat. Fat cleared from the treatment area is processed through the body's natural metabolic pathways.
Dr. Reichel is pleased with the results she's seen with her patients as well as the results cited in more than 20 other clinical studies. More than 1600 people around the world have been treated with KYBELLA®.
To learn more about KYBELLA® or to see if you are a candidate, please visit Pacific Dermatology & Cosmetic Center or MyKYBELLA.com.