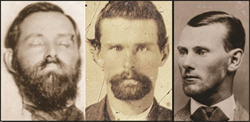 New Braunfels, Texas (PRWEB) January 11, 2017
New Braunfels based auction house, Burley Auction Gallery, will auction a rare tintype photo of the famous outlaw Jesse James and his killer, Robert "Bob" Ford. Ford was a new member of James's gang, known for robbing banks, stagecoaches and trains. The young recruit shot James in the back of the head for a $10,000 reward while he dusted a picture frame. Veteran forensic artist and analyst for the Houston police department, Lois Gibson, authenticated the photo after a month of analyzing facial features of both men.
"The nose, eyes, lips, forehead and chin are the same size, shape and positioning relative to the other features. I know faces inside and out, and I worked exhaustively on this. I am positive it's Jesse James," said Gibson.
Gibson has identified more than 750 individuals in her 34-­‐year career. She currently holds the title of "Most Successful Forensic Artist" in the Guinness Book of World Records. The owner of the photograph, Sandra Mills of Spokane, Washington, sought Gibson out after she could not get collectors to take her seriously.
"I'm just a farm girl, so nobody wanted to listen. We got no respect from anybody. Then we found Lois," said Mills.
Mills was given the photo by her grandmother, Isabelle Klemann, who kept the tintype photo in a handkerchief in her dresser drawer. As a child, Mills heard many stories of how her family helped the famous Jesse James and his gang hideout in their Missouri farmhouse. However, it was not till respected historian and author of "Frank and Jesse James Friends and Family", Freda Cruse Hardison stepped in that the stories had provenance. After seeing an article about the photo and Mills on Facebook, Hardison, who holds a PhD from the University of California, wanted to weigh in. Hardison typed the name of Mill's great great grandmother, Pauline Roundtree, into her database of names and found out that she indeed was the first cousin, once-­‐removed, of frank James's wife, Annie Ralston. Many people that Hardison had interviewed for her book had claimed that no one believed their heritage. She felt like Mill's story was one she could help prove.
"There's no money for her [Lois Gibson], or me, it's the hunt, the effort of finding those clues that help another person who simply doesn't know their own history, or for Lois, to find a missing child or identify a killer. For Sandra it proved her ancestor had a legitimate connection to Jesse James."
Mills hopes to spend the money made from the sale of the rare tintype to fulfill her grandmother's wishes of buying land and farming.
The historic photograph, which carries an estimate of $50,000-­‐$1,000,000, will be auctioned off Saturday alongside the Tommy & Sara Jane Howell estate. The Howells were renowned San Antonio collectors of antiques, advertising, & early German beer steins. In addition, an estate collection of antique firearms featuring a museum collection of documented Texas Ranger duty carried firearms & badges will be available. Colt 1911s carried by Texas Ranger Captain Jack Dean & Senior Ranger Captain Clint Peoples, the only two modern Texas Ranger Captains to go on to be appointed US Marshals upon retiring from the Rangers, are items already gaining attention. If fast getaways are more bidder's speed, they can bid on a rare 624 horsepower 2011 Shelby GT350 R signed by Carroll Shelby. Interested parties that cannot attend the auction may bid online, by phone or by absentee bid form. The auction is Saturday starting at 10:00AM at Burley Auction Gallery, 134 Deborah Drive in New Braunfels. Online catalog & complete details are available at http://www.burleyauction.com
About Burley Auction Gallery
Burley Auction Gallery is Texas' leading source for quality American antiques at auction since 2005. Specializing in select collections & estate liquidations of American antiques Westwestern Americana, & Texana, antique firearms, & advertising, & much more from quality estates, & antique collections. Burley Auction Gallery proudly conducted the final auction of Roy Rogers & Dale Evans museum. In 2011 Burley Auction sold an entire town The Grove, Texas. The town, owner, & auction were the subject an award winning documentary film by the same name. Robb Burley Auctioneer. Texas License #15184
About Lois Gibson
Gibson is the Guinness Record holder having identified more people than any other forensic artist in the world. Gibson has determined Jesse James and Robert Ford are the men in Sandy Mills' tintype. Gibson as a 34-­‐year veteran investigator with the Houston Police Department and a graduate of the FBI Academy is sure Sandy Mills' family story handed down with the tintype for 130 years is nothing but the truth. Sandy's family through generations referred to the image as being "... Jesse James and the dirty rotten coward who killed him (Robert Ford)..." Lois Gibson's expertise extends to accurately recreating a face when only a skull remains. These reconstructions prompted calls byfamilies identifying their murdered loved ones in nearly every case. Gibson has identified 752 people to date, and says "....I am positive this tintype is of none other than Jesse James sitting next to Robert Ford...." She now teaches this profession at Northwestern University and The Institute of Forensic Art in Houston, Texas. She has received numerous awards for stopping violent offenders and getting justice for innocent victims.
Email: giblois(at)comcast(dot)net
http://www.loisgibson.com
About Freda Cruse (Phillips) Hardison
Hardison is the author of several books about the "People and Places of the White River Valley," and 2017 recipient of the Arkansas Arts Council Governors Award for her work in preserving local history. Hardison has also been cited as an expert on the Travl Chanel's "America Declassified" and in Oxford American Magazine. Frank and Jesse James, Friends and Family, 2016 recipient of the Sons of Confederate Veterans Literary Award, is available at the Old Independence Regional Museum in Batesville, Amazon and Barnes and Nobles. fredacruse(at)yahoo(dot)com
For more information about Burley Auction Gallery visit our website at burleyauction.com, follow us on instagram and pinterest @BurleyAuction or 'Like' us on Facebook at http://www.facebook.com/burleyauctiongallery
###