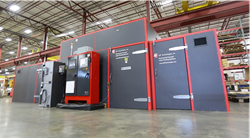 The Procudo® Laser Peening System offers customers a comprehensive system package for enhancing component performance and creating added value within their production processes.
(PRWEB) January 11, 2017
LSP Technologies, Inc. (LSPT) announced their revolutionary Procudo® Laser Peening System is now available as a comprehensive package that includes fully-integrated laser delivery, diagnostics, and robotic-part-handling modules. The company recently formed an exclusive manufacturing partnership to facilitate the fabrication and delivery of modular laser peening systems designed for rapid integration into customer facilities. LSP Technologies, located in Dublin, OH, is the only company in the world selling, installing, and integrating state-of-the-art laser peening systems into manufacturing facilities.
"This is an exciting milestone for LSPT, and a major step forward in our goal to proliferate laser peening technology through the design and delivery of commercially available laser peening systems," said Dr. Jeff Dulaney, President and CEO of LSP Technologies, Inc. "The Procudo® Laser Peening System represents the next generation of surface enhancement technologies, and we're excited to now offer customers a comprehensive system package for enhancing component performance and creating added value within their production processes."
Laser peening is a surface enhancement process that imparts superior reliability and performance into metal parts through improved fatigue life and damage tolerance. The Procudo® 200 LSP System includes a pulsed, high-energy laser to generate a controlled shockwave that yields compressive residual stresses to a much greater depth than conventional shot peening. The compressive stresses result in improved fatigue strength and fatigue life of the component. Laser peening has proven to extend the service lifetime of metal components up to 20 times. Find out more about laser peening here: http://www.lsptechnologies.com/how-laser-peening-works.php
LSP Technologies is the world's premier laser peening, technology and equipment provider. LSP Technologies has been providing equipment, production services, and production laser peening for all industries and scale since 1995. Customers include major international aerospace and power generation manufacturers, tool and die manufacturers, and customers from many other industries and applications. For more information, call (614) 718-3000 or visit http://www.lsptechnologies.com/