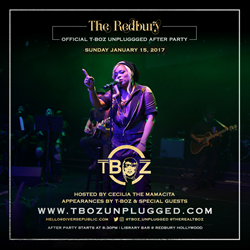 "The Redbury Hollywood is thrilled to take part in T-Boz Unplugged while lending a helping hand in raising awareness for Sickle Cell Research," says Ian Robert McClendon, General Manager of The Redbury Hollywood.
Los Angeles, CA (PRWEB) January 12, 2017
The Redbury Hollywood, an exclusive sbe property, has partnered with Tionne "T-Boz" Watkins for the 3rd Annual T-Boz Unplugged Concert in support of Sickle Cell Disease on Sunday January 15th over Martin Luther King (MLK) Weekend. The concert will be held at Avalon Hollywood located at 1735 Vine St, Hollywood, CA 90028 and is a thriving passion of Watkins, the lead female artist of the former hit musical group TLC. The event will support The Sickle Cell Disease Foundation of California and The Sickle Cell Support Group of Atlanta.
The concert lineup features legendary Hip-Hop Artist, Actor and personality Snoop Dogg to perform alongside iconic hip hop artists Naughty by Nature and DaBrat, as well as DJ Angie Vee. The event will be hosted by Video Blogger and Personality Jen DeLeon and feature KDAY's own Cecelia "The Mamacita" Valencia.
"I'm honored to be apart of such an amazing event that helps benefit Sickle Cell Disease," says Valencia. I applaud T-BOZ for using her platform to bring attention and address a serious condition that affects our communities."
After the concert, The Library at The Redbury in Hollywood will host an exclusive after party powered by 93.5 KDAY and hosted by T-Boz and Valencia. The party will feature signature cocktails presented by Tanqueray Gin.
"The Redbury Hollywood is thrilled to take part in T-Boz Unplugged while lending a helping hand in raising awareness for Sickle Cell Research. sbe Founder, Chairman, and CEO, Sam Nazarian, has devoted our company to creating extraordinary experiences for our community through the forefront of hospitality, cuisine, design, and entertainment," says Ian Robert McClendon, General Manager of The Redbury Hollywood. We are looking forward to a great show and hosting the official after party at The Library at The Redbury."
For updated information on T-Boz Unplugged please visit the official website: http://www.tbozunplugged.com
There will be several celebrities in attendance in support Watkins efforts, among those are NBA Legend Byron Scott, Actresses Dawnn Lewis, Kristian Alfonso, Tamala Jones, Kiki Shepard, Tonya Renee Banks and Uldouz Wallace, Soul Train Royalty Tony Cornelius, Dancer Chery Song, Musical Sensation Shanice, Actors Flex Alexander, Dorien Wilson and Alonzo Bodden, Sports Broadcaster Mike Hill, UFC Superstar Cat Zingano, Boxer Jose Lopez, Model Couples Lamon Archey and Mercedes Cornett, Don Benjamin and Liane V, MLB Star Royce Clayton, Film Casting Director Leah Daniels, and more to be announced.
*** For Media and Press Information, please contact: Lisa Humphrey, Premier Concepts Public Relations
media(at)premierconceptspr(dot)com or call 310.293.4154 ***
For Social Media information please visit: Facebook | @RealTBoz Twitter & Instagram | @TBoz_Unplugged @TheRealTBOZ
ABOUT TIONNE "T-BOZ" WATKINS
Tionne Watkins known as T-Boz, is an American-born singer, songwriter, model, dancer, actress, author, and executive producer. At the age of 7, Watkins was diagnosed with sickle cell disease and continues to receive treatment due to her condition. A true talent and fighter she was the lead singer of the 5-Time Grammy Award Winning R&B/Hip Hop girl-group TLC. The group became a global phenomenon and remain one of the most successful girl groups in history with over 65 million records sold worldwide. Watkins went public with her struggle with sickle cell anemia in 1996 and later became one of the spokespersons for Sickle Cell Disease Association of America. In 2002, she was hospitalized for four months due to a flare-up of sickle-cell anemia. Watkins' faith in God and her optimism have helped her stay free from the more serious effects of sickle-cell disease.
For more information please contact BAA Management: Tel. 949-290-1795 | Email. Brian(at)BaaManagement(dot)com
ABOUT PGD GLOBAL
Play Golf Designs, Inc. (PGD Global) is a golf marketing & event company, directing, producing and participating in lifestyle and sports events for some of the world's most legendary athletes, entertainers and organizations including Coach Mike Woodson, Julius Erving, Jeffrey Osborne, The Broadcasters Foundation of America, Jerome Williams, Reggie Jackson, Chris Tucker and Ahmad Rashad. PGD blends pop culture and entertainment, creating the most unique, innovative golf events and experiences for each client. PGD Global focuses on celebrating diversity and inclusion in golf while welcoming women to the game with open arms. Specializing in connecting golf, music and lifestyle to the modern world of trends and fashion, PGD Global operates interactive events and creative experiences all around the country.
For more information, please visit: http://www.pgdglobal.com | Email. info(at)playgolfdesigns(dot)com | Twitter and Instagram @PGDGlobal | Facebook http://www.facebook.com/PlayGolfDesigns
ABOUT THE REDBURY HOLLYWOOD
Welcome to your new home away from home. The Redbury is an all-suite boutique hotel featuring 57 thoughtfully-appointed guest suites that exude a warm, bohemian counter-culture feel with design elements drawn from a variety of old-world cultures. Situated at the iconic intersection of Hollywood and Vine, you'll find yourself near the best of Hollywood and Los Angeles. Our all-suite, luxury hotel offers an unpretentious refuge with all the comforts you need to unwind after hitting your favorite Hollywood arts, music, fashion and entertainment hotspots.
For more information, please visit: http://www.theredburyhollywood.com
Facebook, Twitter and Instagram | @TheRedbury