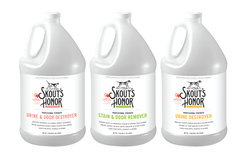 "We're proud to offer the most powerful cleaning solutions on the shelf...these new bulk sizes give retailers a great opportunity to expand their selection in the all-natural pet stain and odor category." - Macon Brock, founder and chief at Skout's Honor
Irvine, Calif. (PRWEB) January 17, 2017
Skout's Honor, the award-winning pet specialty brand that offers Better, Faster, Stronger cleaning solutions to everyday pet stain and odor problems is expanding its product line to include gallon-sized versions of three top-sellers, including: Cat Urine & Odor Destroyer, Urine Destroyer and Stain & Odor Remover.
"We have experienced a steady growth of customers who are using our products on a daily basis to combat their pet stain and odor issues, so it was a natural progression for us to offer larger sizes to accommodate that need," said Macon Brock, founder and chief at Skout's Honor. "We're proud to offer the most powerful cleaning solutions on the shelf, that also exceed standards in environmental responsibility and safety. These new bulk sizes also give retailers a great opportunity to expand their selection in the all-natural stain and odor category."
Cat Urine & Odor Destroyer (MSRP: $39.99, 1 gallon)

An extra-strength, fast-acting solution for tough cat urine spray stains and odors including urine, vomit, hairball, feces, marking scent, etc.
Optimized for use on vertical services
Dissolves and lifts away stains and immediately eliminates odors
Works great on carpet
Stain & Odor Remover (MSRP: $39.99, 1 gallon)

All-purpose cleaner and deodorizer, great for everyday cleanup
Extra-strength and non-enzymatic, to quickly eliminate even the most severe stains and odors including blood, feces, urine, vomit, mud, milk, coffee, wine, you-name-it!
Optimized for use on porous and non-porous surfaces
Urine Destroyer (MSRP: $39.99, 1 gallon)

Powerful solution optimized to quickly penetrate deep into carpet padding, unsealed concrete and other porous surfaces to eliminate stubborn urine stains and odors
Carpet cleaner compatible
Skout's Honor products leverage a proprietary, non-enzyme BioKore™ technology and a rapidly biodegradable molecular deodorizer to provide pet owners with Better, Faster, Stronger cleaning solutions. All of the products are non-toxic, naturally-derived, biodegradable, bio-renewable, cruelty-free and are always safe to use around pets, family and home.
As a socially conscious company, Skout's Honor also donates a day's worth of food to a shelter animal in need with every product sold through its Skout's Paw Pledge program.
In addition to the three gallon SKUs, the Skout's Honor product family includes 35 oz. trigger sprays of its Stain & Odor Remover, Urine Destroyer, Odor Eliminator, Patio Cleaner & Deodorizer, Litter Box Deodorizer and Cat Urine & Odor Destroyer. All products are available at pet specialty retailers across the United States, Canada and Australia. For specific retail locations, please visit the store locator at http://skoutshonor.com/apps/store-locator.
For distribution and retail opportunities, please contact Shannan Morlas, National Sales Manager, at shannan(at)skoutshonor(dot)com.
About Skout's Honor
Skout's Honor is an award-winning company based in Irvine, Calif. that offers BETTER, FASTER, STRONGER cleaning solutions to everyday pet stain and odor problems, including: Stain & Odor Remover, Urine Destroyer, Odor Eliminator, Patio Cleaner & Deodorizer, Litter Box Deodorizer and Cat Urine & Odor Destroyer. Founded by a team of animal lovers and proud pet owners, the company created its "Skout's Paw Pledge," and donates a day's worth of food for a shelter animal in need with every product sold. For more information on the products and for specific retailers, please visit SkoutsHonor.com