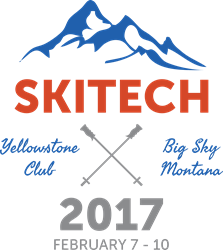 Atlanta, GA (PRWEB) January 14, 2017
SkiTech, a unique event for payments and financial services innovation, has announced the third annual gathering on February 7 -10, at the Yellowstone Club in Big Sky, MT. The event hosts C-Level executives in the payments, banking and FinTech industry. Attendees and speakers are from award-winning companies such as Apple Pay, Goldman Sachs, BluePay, POS Portal, Payscape, Suntrust Robinson Humphreys, Womply, ShopKeep and more.
The agenda includes innovative and thought provoking discussions, for enhancing this category in the payments space, known as "FinTech". Discussions include a fireside chat with Apple Pay executives, and a panel discussion with FinTech investment bankers responsible for over $1B of deals in the past four weeks alone. Speakers come from Goldman Sachs, Suntrust Robinson Humphreys and Napier Park Global Capital. Topics will range from the current capital markets environment and thematic investment, to FinTech M&A and blockchain technology.
"SkiTech has been a an integral part of the attendee's dealings throughout the year. Tens of millions of dollars of business has funneled through this event, and the momentum continues to grow each year," said Todd Ablowitz, President of Double Diamond Group and headline sponsor of SkiTech.
SkiTech will include exciting events such as the annual downhill skiing competition, with executives skiing back-to-back in elimination rounds to determine the overall winner. The event will also have daily sponsored dinners, networking events, ample skiing time and a competitive dodgeball tournament, a favorite amongst attendees.
Special thanks to sponsors: Double Diamond Group, Bryan Cave, Payscape, POS Portal and Piper Jaffrey.
The organization will also be making a donation to the United State Naval Academy, in memory of late, SkiTech charter member, Bob Hyer, Managing Director of FinTech at Houlihan Loskey.
For more details, or to inquire about your company qualifying, please contact alex(dot)mccandless(at)payscape(dot)com or subscribe for updates HERE.
About SkiTech
SkiTech is an annual gathering of C-level executives in the payments and financial service industry. The group of individuals are at the forefront of innovation for connected commerce and have expertise in mobile, retail, marketing services, data, banking and technology. In just three years, SkiTech has fundamentally disrupted the standard industry conference and created an environment where operators have the ability to conduct meaningful conversations in a casual environment. With a finite group of attendees, responsible for billions of dollars in revenue and limitless innovation. To stay connected, please visit http://www.skitech.org or follow us on Twitter at @SkiTechFinTech.