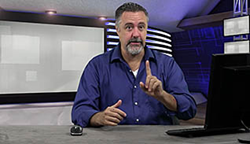 Employers need to be more vigilant than ever in protecting their data from data breaches.
Novi, Michigan (PRWEB) January 17, 2017
Mastery.com has added cyber security training to its course library, which is extremely timely as a recent USA Today article forecasts the number of cyber threats to increase in 2017. Unfortunately, a large percentage of data breaches are due to employee negligence or mistakes. These new courses help employers train their organizations to protect sensitive data and follow industry-recommended best practices.
Mastery.com features six new video-based training courses on the topical areas of data security compliance, HIPAA mobile device security, and general information security.
These new courses present strategies to employees to protect sensitive information and prevent data breaches. The lessons cover topics such as, device security, avoiding accidental disclosures, ways data breaches occur, data encryption, data destruction, issues with public networks, and more.
The new titles include:

Protect Sensitive Information: Start with Security
Data Security Compliance: Avoiding Inadvertent Disclosure
Data Security Compliance: Data Breaches and ID Theft
Data Security Compliance: Device Security Basics
Data Security Compliance: Physical and Technical Safeguards
HIPAA: Mobile Device Privacy and Security
Employers need to be more vigilant than ever in protecting their data from data breaches. These courses help put employees on the front-line by giving them the simple steps they should take to protect all types of company data. For full course information on the titles listed above, click here.
These courses are published on the MasteryTCN™ courseware platform, which provides continuity in learner experience from one course to the next. All courses on the platform play across all devices and browsers, giving users the ultimate flexibility for when and where they can access training assignments.
Mastery.com offers complete training solutions for organizations of all sizes, across industries. If you are looking to train your workforce, click here.
About Mastery.com
Mastery.com offers a large library of training content published by MasteryTCN™. Mastery Training Services goes beyond connecting customers with content, by pro-actively supporting customers to ensure organizations reap the benefits of a well-trained workforce. In this way Mastery fulfills its mission of helping build more successful, effective and amazing organizations.