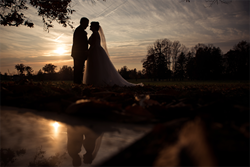 During this three-day live workshop, I throw it all out there, uncut and unedited
New York, NY (PRWEB) January 13, 2017
Wedding photographers are all-too-familiar with the issues and general snafus that often present themselves while documenting their clients' special day. In most cases these unforeseen challenges are handled quietly and go unnoticed but this offers little comfort to photographers and their recurring anxieties. To help photographers develop an unbreakable game plan, renowned wedding photographer and educator Susan Stripling will conduct a three-day, comprehensive wedding workshop titled, "One Real Wedding," that will stream live on The Wedding School from February 17-19, 2017. Photographers can register to watch the free live stream at https://theweddingschool.net/. Subscribers to The Wedding School will have 24/7 access to the three-day workshop, along with hundreds of hours of additional video tutorials focused on wedding photography. Annual membership to The Wedding School is $299.
One Real Wedding documents a (wedding) day in the life of Susan Stripling and becomes the anchor for this unparalleled learning experience. Capturing every move Stripling and her team make – from her early morning drive to the bride's house, through the ceremony, family formals, and reception – the workshop documents how she navigates through a long, 14-hour day.
Throughout the workshop, Ms. Stripling will dissect and comment on every aspect of the video documentary and describe how photos were made, and how issues and snafus were averted. In addition, she will share her entire file of unedited RAW images (with EXIF data) so viewers can see the successes and failures of the day. In short, the workshop transforms a day in the life of Susan Stripling into an enlightening, entertaining, and in-depth educational experience. Ms. Stripling will field questions from her audience and provide assistance and solutions to real-life issues photographers have experienced at client events.
"This type of education is so important to me," explains Susan Stripling. "During this three-day live workshop, I throw it all out there, uncut and unedited. This is a comprehensive tutorial about not only what to do, but what not to do and how to resolve unexpected issues that will absolutely present themselves on the wedding day."
Conceived and created by Stripling, The Wedding School combines her expert tutelage with the management skills of co-founders Craig Swanson and George Varanakis, to create a successful and fulfilling online educational website for wedding photographers. Swanson was the co-founder of CreativeLive and Varanakis was former GM of the Photo Channel at CreativeLive and executive vice president of WPPI and Rangefinder magazine.
About The Wedding School
The Wedding School aspires to establish the industry benchmark in education for wedding photographers. Our mission is to provide the kind of honest, real-world training, community and support required to build a successful wedding photography business and develop a unique artistic aesthetic.