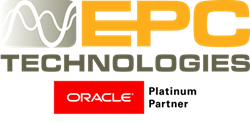 EPC Tecnologies the leader for Oracle Project Cloud implementations.
(PRWEB) January 13, 2017
Efficient project management is essential for the success of any business. Cost-effectiveness is the main reason why more and more businesses are opting for cloud-based project management solutions. Oracle Project Management Cloud offers instant availability, allowing businesses to integrate their projects for faster delivery and improved performance. While managing the performance of all projects, it provides the means for managers, accountants and team members to consistently monitor and assess the performance of single projects they're working on.
Oracle Project Management Cloud Service, is a solution that was primarily developed with a focus on meeting the needs of project managers, regardless of their experience.
The Oracle Project Management Cloud solution :

Simplifies project planning.
Effectively manages and control project issues and changes.
Fast-track project delivery, productivity and efficancy.
Project goals and improve productivety.
Improves project plan development and accuracy,
Empowers team members with social task management
Real-time access to a single source of project truth.
Oracle Project Management Cloud consist out of the following components:
Project Management Cloud

Project Management and Scheduling
Issue and Change Management
Project Manager Mobile
Task Management Cloud

Task Tracking and Collaboration
Task Progress
Team Member Mobile
Project Resource Management Cloud

Project Resource Management
Organizational Utilization
Skills and Qualification Management
About EPC Technologies:
EPC Technologies is an Oracle Platinum partner that provides IT solutions and services for project-driven organizations. The Company's services include Oracle E-Business Project Portfolio Management, Oracle Fusion Project Portfolio Management, Oracle Enduca, Oracle Primavera, and Oracle Cloud. Their cloud and on-premise software business consists of three segments, Software as a Service (SaaS) and Platform as a Service (PaaS) offerings, cloud infrastructure as a service (IaaS) and software license updates and product support.As an experienced consulting business and client focus company, EPCT assures comprehensive and personal experiences that are shaped to fit a company's standards and needs. As specialized Oracle consultants their team will draw upon their extensive ERP consulting experiences, remarkable flexibility, and scalability, to deliver optimal solutions in the least time possible,through collaboration, knowledge sharing and improved efficiency.
For regular news and information about EPC Technologies, like and follow the company on:
LinkedIn: https://www.linkedin.com/company/epc-technologies
Blog: http://www.epct.net/blog