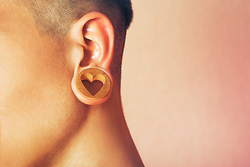 The good news is that those things that were once fun and rebellious but are now embarrassing or unsightly can be remedied through medical treatments
Las Vegas, Nevada (PRWEB) January 17, 2017
What is considered fashionable and mainstream can change completely over the decades. A perfect example of this is the tattoo. What was once the province of sailors and sideshow attractions has now become a staple of youth culture and a sign of individuality. The number of people in the United States now sporting some type of body ink is truly staggering, and body art has become big business. A full forty percent of adults aged 26 to 40 have at least one tattoo on their body. (1) Millennials are the biggest demographic for having tattoos, with a full forty-seven percent of them confessing to having at least one tattoo, according to a Harris Poll. (2) However, the joy of having a tattoo may not last as long as one would think. Polls have shown that a full twenty-five percent of those with a tattoo actually regret getting it in the first place. (3) Such individuals are in luck as experienced dermatologists, such as Dr. F. Victor Rueckl of Lakes Dermatology in Las Vegas, can address that regret by removing the tattoo.
Tattoos are not the only form of body adornment that is all the rage right now. The last decade has seen a sharp rise in the popularity of navel piercings and the use of ear gauges and multiple piercings. It's become quite chic for women to sport some belly jewelry by having their navel area pierced, and both young men and women are opting for multiple ear piercings. A licensed medical professional, such as Dr. F. Victor Rueckl of Lakes Dermatology, will inform their clients that even a standard ear piercing can lead to complications. A study found that up to thirty-five percent of those with pierced ears have experienced complications, such as forty-three percent having an allergic reaction and seventy-seven percent getting a minor infection. (4) Ear gauges, while still not fully mainstream, is a growing trend for Millennials. The eventful side effects of wearing large ear gauges is that the skin can become extremely stretched, almost resembling strands of spaghetti, and dangle loosely.
Millennials entering the workforce are quickly realizing that their expressions of individuality are often not being met with enthusiasm. In fact, the sporting of tattoos, multiple piercings, and ear gauges can cause a person to be rejected for a job. Many companies consider openly visible body adornments not be to professional at all. Another issue for body adornment in the business world is that those who got a tattoo or piercing when younger can come to regret them as they get older, have kids, and move up the corporate ladder. Women make up a greater percentage of those seeking tattoo removal, making up a whopping seventy percent of the total. (5) Other reasons for getting body adornments removed may be due to sagging skin as one gets older, health issues, or becoming pregnant, which directly affects navel piercings in women. Licensed dermatologists, such as Dr. F. Victor Rueckl of Lakes Dermatology in Las Vegas, can help their clients by offering solutions to remove tattoos and repair damage caused by navel piercings, ear gauges, and multiple piercings.
Multiple piercings in the ear can be problematic as they can weaken the tissue faster and cause the holes to merge together if the piercings are placed very close to one another. Even a single piercing can lead to the earlobes tearing if the jewelry is pulled in a hard manner. The main trouble spot for ear piercings is when the person chooses to have the upper ear pierced. Unlike piercings in the lower ear, those in the upper ear are going through the cartilage, which do not grow back or regenerate. Such upper ear piercings can lead to an infection called chondritis, which can deform the ear. Such a situation requires a surgical procedure to be done by a licensed medial professional, such as Dr. F. Victor Rueckl of Lakes Dermatology. One should not wait for damage to be repaired as the greater the damage done to the upper ear, the less a medical professional can do to repair it.
Dr. F. Victor Rueckl of Lakes Dermatology notes, "It's become commonplace for young and even older people to get some form of body adornment, such as a tattoo or piercing. Such an act can be a mark of rebellion or individuality early on, but it's not uncommon for a person to regret that decision later on in life. Perhaps a tattoo of your first love's name may not be well received by your current fiancé or it may be that the job you seek frowns on open displays of multiple piercings or tattoos. One of the largest groups I see coming into my practice for removing the effects of tattoos, piercings, and more are individuals looking to serve our country by entering the military. The military services do not allow anything that can be seen from the neck up at all. Therefore, I see a handful of patients every month looking to have the issues of now unwanted tattoos, ear gauges, and piercings resolved before they head off to basic training. Luckily, many of the most popular body adornments can be remedied via a number of different procedures. Navel piercings can be stitched up to close up the hole. The long draping holes in earlobes caused by ear gauges can be remedied by a surgical procedure that is done under local anesthetic. Tattoo removal is accomplished by the use of lasers over the course of several treatments. Black ink tattoos are easier to remove than those with color, and red is the hardest pigment to get rid of entirely. The good news is that those things that were once fun and rebellious but are now embarrassing or unsightly can be remedied through medical treatments." (6)
It stands to reason that tattoos and piercings may lose their luster over the years. Priorities and attitudes change as one gets older, and once-cherished body adornments can become a liability. Fortunately, there are proven methods to safely remove and repair such work. Even if one wishes to keep their body adornment, such as ear gauges or multiple piercings, it is worthwhile to consult with a licensed dermatologist, such as Dr. F. Victor Rueckl, to learn about the possible health risks associated with such procedures.
References:
1) http://www.statisticbrain.com/tattoo-statistics/
2) http://www.theharrispoll.com/health-and-life/Tattoo_Takeover.html
3) http://www.webmd.com/skin-problems-and-treatments/laser-tattoo-removal#1
4) http://www.aafp.org/afp/2005/1115/p2029.html
5) https://astanzalaser.com/treatments/laser-tattoo-removal/market/
6) Quote from Dr. F. Victor Rueckl, dermatologist at Lakes Dermatology