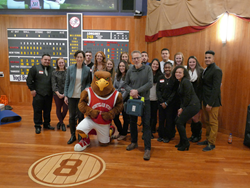 Sports safety is an important focus for us, and that's why our Museum genuinely appreciates the great relationship we've had with athletic trainers and the continuing education program. Dave Kaplan
Litlle Falls, NJ (PRWEB) January 17, 2017
Twelve (12) years ago the Yogi Berra Museum and Learning Center and the Montclair State University's Athletic Training Education program forged a relationship built upon the foundation of sports safety. Recently, the Montclair State University's Athletic Training Education Program, which is consists of both student members and certified members of the Athletic Trainers' Society of New Jersey (ATSNJ), donated an Automatic External Defibrillator (AED) to ensure the safety of those visiting the Yogi Berra Museum and Learning Center (YBMLC) .
The portable devices (AED's), which are used to shock the heart back into a normal rhythm, can save the life of someone who collapses due to a heart rhythm disorder that causes sudden cardiac arrest. Each year, about 300,000 cases of sudden cardiac arrest occur in the United States. Most are among adults, yet more than 3,000 young people die annually from sudden cardiac death.
After learning, at last spring's continuing education event, which dealt with heart abnormalities and testing, that the museum did not have an AED, Montclair State's Athletic Training Education Program faculty, staff, and students decided to correct this oversight. On December 16, 2016 during the 12th annual Montclair State University Athletic Training Education Program, totally student run, athletic trainers' continuing education program held at the museum and learning center the AED was officially presented to Dave Kaplan, the Museum Director and other Yogi Berra Museum and Learning Center Staff.
"Sports safety is an important focus for us, and that's why our Museum genuinely appreciates the great relationship we've had with athletic trainers and the continuing education program," said Museum Director Dave Kaplan. "Having access to a defibrillator is awesome; we hope it
will never be taken out of the case, but if needed, it's here to possibly save a life."
The latest educational seminar, sponsored by Flo Fitness, was attended by 50 area athletic trainers and athletic training students. The educational program featured three presentations addressing improved evaluation and stretching techniques. Regionally recognized athletic trainers; Nik Nicholaides, ATC, CFSS, (FST Principles), Johnny Rodriguez, ATC (New Approach to Rehabbing Injuries, Part 1) and Chris Flores, ATC (New Approach to Rehabbing Injuries, part 2) highlighted the program.
The event is traditionally held at the YBMLC, at no cost to the MSU ATEP. The focus of the program is to educate athletic trainers, athletic training students and other health care professionals of the ATSNJ. The program which was started as collaboration with the ATSNJ has continually worked to abide to the goals and mission statement of the ATSNJ. For more information on the ATSNJ, its goals and mission statement, please visit the ATSNJ website. The ATEP solicits external sponsorship and requests donations from the attendees. The senior seminar class then donates a portion of the sponsorship and donations to the museum for future programming.