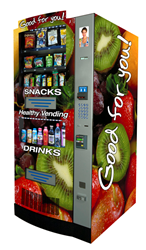 "Every January, we see excitement about starting new healthy vending businesses, " says Mike Burnett, owner of HealthyYOU Vending.
Salt Lake City, Utah (PRWEB) January 16, 2017
When a new year begins, we are often filled with enthusiasm for a fresh start: it's the perfect time to start a new business and revamp our habits while taking action on the most important steps of launching a business.
With a fresh start comes fresh ideas and the energy required to bring them into the world. Whether it has something to do with flipping the calendar to a whole new page or mistakenly writing 2016 instead of 2017 for weeks into the new year, January historically inspires people to do things differently.
"Every January, we see excitement about starting new healthy vending businesses. Talking to potential operators, we've learned that many see the new year as a way to finally take action with their goal of business ownership," says Mike Burnett, owner of HealthyYOU Vending.
Even if you struggle with committing, the bright promise of a new year can give you enough fuel in January to make a commitment to your business goals for 2017.
One entrepreneur who has grown her New Year's resolution into a successful business is Catherine Piddington, a luxury, artisan jam producer and founder of Piddington Jam.
"Starting my own business was a lifestyle choice – I knew what I wanted and the best way for me to get to that point was to be my own boss and take control of my future," explained Piddington.
"Starting on a new business path at the start of the year gave me motivation, but also gave me the year to develop my brand and build my product line."
Another example of a successful business starting out in the month of January is Shepper, an on-demand, visual inspection service.
Ben Prouty, CEO of Shepper, said, "I'd always wanted to start my own business from scratch and I knew that by starting in January it would give the company a clear run and an opportunity to build momentum."
Although entrepreneurship requires that you have an open mind, there's no doubt that January of any new year prompts you to look at things a bit differently. With the arrival of a new year, many people often wonder how they can show up in the world in a better way.
"Entrepreneurs need all the support they can get when they start their new business," said Nick Leech, digital director at 123 Reg, a domain name registration and web hosting service based in the UK. "They are time-poor and resource light, juggling multiple hats on a daily basis. To fulfill their potential they need to be as well prepared as they can be."
HealthyYOU Vending provides the most complete, on-going training in the Healthy Vending industry with Healthy YOUniversity, a two-day, intensive seminar, lifetime coaching and online support center.
In the United States alone, over $79,000 is put into vending machines every minute – which equates to $115 million each day. HealthyYOU Vending provides an ideal way for entrepreneurs to become involved in the Healthy Vending industry and start their own business in 2017.
For more information about HealthyYOU Vending, its entrepreneurial philosophy and the HealthyYOU Difference, go to http://www.healthyyouvending.com/.
-END-
HealthyYOU Vending is the world leader in the healthy vending industry. Founded by seasoned vending veterans Mike Burnett and Jeff Marsh, their corporate offices are located in Kaysville, Utah. All company vending machines are privately manufactured in the United States at a state-of-the-art facility. Owner/Operator opportunities for serious-minded entrepreneurs are currently available.