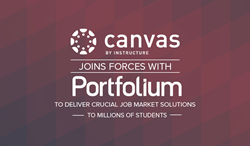 By integrating with Portfolium, millions of students who use the Canvas LMS will be able to transform academic success into job success
San Diego, CA (PRWEB) January 17, 2017
Portfolium, a cloud-based platform empowering students with lifelong opportunities to capture, curate, and convert skills into job offers, and Canvas by Instructure, a modern learning management system (LMS) that makes teaching and learning easier for educators and students, announced today that they have partnered to connect learning with career opportunity.
Portfolium will offer a public, searchable profile to integrate with students' private Canvas profiles. Students will opt in to publish projects and other proof of skills to their Portfolium profile, making their work searchable by employers who are looking for career-ready students. Any system administrator of Canvas can easily integrate the two systems by finding the Portfolium app in the Edu App Center at eduappcenter.com and requesting their passkey.
"We are thrilled to partner with the Canvas learning management system," said Troy Markowitz, VP University Partnerships at Portfolium. "Integrating with Canvas will empower students to seamlessly highlight the classroom work that will best demonstrate the competencies and skills required to maximize their desirability in the job market."
"By integrating with Portfolium, millions of students who use the Canvas LMS will be able to transform academic success into job success," said Melissa Loble, Vice President of Platform and Partnerships at Instructure. "A partnership between Portfolium and Canvas is an exciting way to address the crucial needs of students who will be applying for jobs that launch their careers."
ABOUT PORTFOLIUM: Portfolium partners with colleges & universities to help students transform learning into opportunity. Our ePortfolio network helps millions of students and alumni from over 150 partner institutions manage their skills and launch their careers. Portfolium's cloud-based platform empowers students with lifelong opportunities to capture, curate, and convert skills into job offers, while giving learning institutions and employers the tools they need to assess competencies and recruit talent.