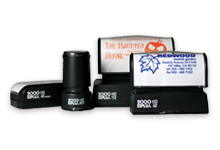 "Bringing our customers a stamp based on their feedback has helped us better serve them and their customers," says Chris Wiederkehr, Director of Business Development
North Mankato, MN (PRWEB) January 19, 2017
NSP Works: Navitor Specialty Products, located in North Mankato, MN, is pleased to announce the addition of a new style in the popular 2000 PLUS® line of personalized stamps.
Navitor's new 2000 PLUS® HD Series pre-inked stamps include a large built-in ink reservoir that allows them to make thousands of impressions before needing to be re-inked and are made with at least 50% recycled material. The HD series also include new features like attached covers and pigment-based, ISO-certified, document-proof ink that allows for a higher quality image. This new ink will be available in black, red, blue, green, violet, orange and gold.
According to Chris Wiederkehr, Director of Business Development, these features were incorporated into the stamp based on customer requests. "We are so pleased to have worked together with our supplier to bring our customers a line of stamps based on the features our customers most requested," says Wiederkehr. "These new stamps are great for a wide variety of business uses, and the initial feedback has been overwhelmingly positive."
The new stamps became available January 1st, 2017 through the NSP Works catalog. More information about Navitor and the company's complete selection of stamps, daters, and embossers can be found at Navitor.com.
"Bringing our customers a stamp based on their feedback has helped us better serve them and their customers," says Chris Wiederkehr, Director of Business Development.
About Navitor
Navitor Inc. is one of America's largest commercial wholesale printers, delivering innovative programs, services and technologies exclusively to our community of resellers. Headquartered in Minnesota and with manufacturing facilities nationwide, Navitor provides print resellers and distributors the industry's widest catalog of personalized print and custom business identity products. Navitor is part of the Taylor Corporation family of companies. For more information, visit our website at Navitor.com.