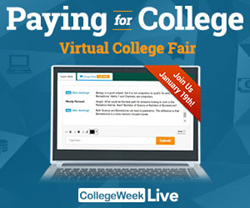 (PRWEB) January 18, 2017
Higher education has become more important than ever, but many students and parents worry about the financial obligation. CollegeWeekLive, a unique virtual engagement platform where students and colleges meet online, is helping college-bound families get the answers they need about financial aid by hosting the upcoming virtual college fair, "Paying for College." The free event will take place on January 19, 2017, from 2 PM until 10 PM EST, and attendees are welcome to log in at any time.
Throughout the event, students, parents, and counselors will have the opportunity to engage in live chats with admissions and financial aid counselors from over 80 colleges and universities around the country. Students on the verge of submitting last minute applications will have the ability to connect with admissions reps to ask any lingering questions. Financial aid experts will be on-hand to provide advice for navigating the often complicated process of applying for financial aid and researching information on scholarships.
"We're thrilled to welcome top financial aid experts as partner speakers for CollegeWeekLive's 'Paying for College' virtual event," said CollegeWeekLive President Sumant Mauskar. "With keynote presentations from the U.S. Department of Education's Federal Student Aid and The College Board, attendees are going to be getting critical advice from the best of the best."
During the event, attendees can watch several different presentations, including "How to Win College Scholarships" and "How to Properly Pursue College Financial Aid." The College Board will offer an exclusive presentation geared toward students interested in taking College-Level Examination Program exams – an excellent way to earn college credit at a reduced cost. "Students can get a head start on earning college credit through CLEP exams for a fraction of the cost of a college course," said Emily J. Paulsen, Executive Director, CLEP Program. "Passing any of the 33 CLEP exams can earn a student credit in more than 2,900 college and universities for one or more college courses."
Participating students will also have the chance to win scholarships. To be eligible, they just need to visit five different school pages during the event.
"We know that financial obligations are a significant determining factor in the college application process, and our goal is to empower families to make good decisions," said CollegeWeekLive President Sumant Mauskar. "The "Paying for College" virtual college fair is a perfect opportunity for parents, students, and counselors to connect with schools, financial aid experts, and get the information they need."
For more information about CollegeWeekLive's "Paying for College" virtual college fair, please contact colleges(at)collegeweeklive(dot)com or 800-828-8222.
About CollegeWeekLive
One in three college-bound students uses CollegeWeekLive to help find the best college match. Students, parents, and counselors visit CollegeWeekLive to engage directly with universities at every stage of the enrollment process. Through online chats and virtual college fairs, they have live, candid conversations with admissions counselors and current college students from hundreds of colleges and universities to explore their degree programs, financial aid opportunities, career paths, campus life, and much more. For more information, please visit http://www.collegeweeklive.com.