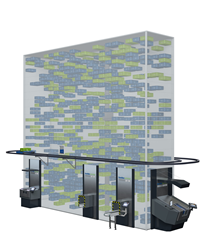 Westbrook, ME (PRWEB) January 18, 2017
Kardex Remstar is launching an entirely new product class of storage systems into the market. The intralogistics supplier is adding the Vertical Buffer Module product family to its portfolio, starting with the Kardex Remstar LR 35 storage and retrieval unit. The new design is capable of fast delivery when picking small parts. The Kardex Remstar LR 35 meets the demand for greater flexibility, ergonomics and energy efficiency in intralogistics.
Responding to the trend towards wider product ranges, smaller batch sizes and 24-hour service support, Kardex Remstar introduces the LR 35 storage system from the Vertical Buffer Module product family. The product innovation is a solution for picking small parts from bins, totes and trays in small and medium-sized warehouses. The unit design is a completely new development from Kardex Remstar. It consists of a shelf system with automatic bin handling, picking stations and its own logistics software. The Kardex Remstar LR 35 is the solution for any company involved in handling single-part or small-volume orders. Compared to other common storage solutions, such as mini-load systems, the LR 35 excels in terms of investment costs (ROI in less than one year), order picking performance, energy efficiency and the amount of space it requires.
Around 500 order lines per picking station/hour can be achieved with two or more units or batch picking. The LR 35 can be fitted with up to four access openings or picking stations. At the heart of each station is the turntable. Tilted at an angle of 20 degrees, it has been ergonomically designed to guarantee stress-free working for the operator. While the operator picks one order, the LR 35 prepares the next bin and places it on the rear shelf of the turntable. As soon as the picking process is complete the turntable turns 180 degrees and the next bin is ready for picking. This quick access to goods keeps waiting times to a minimum.
Goods can be directly stored in standard bins/totes or on a tray that is compatible with a mini-load system. There is no longer any time-consuming repacking. Trays, bins, or totes of different heights can also be mixed and stored together. Each load carrier can hold up to 35 kg (77 lbs).
The Kardex Remstar LR 35 has been newly developed from the inside out and features a lightweight design. The unit consists of a shelf system with an aisle in which a movable mast with rotating gripper loads the picking stations in no time at all. All versions of the LR 35 are based on the same components and technology. Reducing the number of components and using state-of-the-art technology not only guarantees the scalability of the unit, but also saves a significant amount of energy. The LR 35 only consumes a third of the energy of a mini-load system, eliminating the need for a system for recovering energy. Modern drive technology, highly efficient motors, and optimally configured frequency converters also contribute to the energy-saving concept.
In addition to the environmental benefits, the Kardex Remstar LR 35 is also a master of integration. It slots seamlessly into existing processes and can be adapted to fit individual buildings and linked to existing conveyor technology with no extra effort. The conveyor connection can be fitted on the front, rear, or end face of the unit.
Alongside the development of the new product family, the architecture of the unit software has been updated in line with the latest technology and includes a modern operating concept. New high-performance hardware and a capacitive touch screen with high resolution permits fast and ergonomic handling. The unit software is Web-based and can thus be used with a wide range of hardware. New, enhanced functions bring real benefits for the user; including bin handling, prioritized storage/retrieval, adjustable speeds for each bin and material, and user login via RFID.
The new LR 35 Vertical Buffer Module from Kardex Remstar is a bin handling system. Combined with goods to person picking, this new product family can increase productivity, reduce wait time and save floor space. The LR 35 is completely scalable, to grow with your business.
Kardex Remstar, LLC, a company of the Kardex Group is a leading provider of automated storage and retrieval systems for manufacturing, distribution, warehousing, offices and institutions. For information about our dynamic storage solutions, call 800-639-5805, visit http://www.kardexremstar.com or stop by and see us in booth S2912 during Promat 2017.