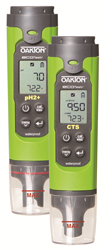 Vernon Hills, IL (PRWEB) January 19, 2017
Measuring water quality just became quicker and easier. The new and improved Oakton® EcoTestr™ pH2+ and CTS pocket meters offered by Cole-Parmer provide more user-friendly options for better results.
The Oakton EcoTestr pH2+ pocket meter has an expanded 4-digit dual-line display shows pH and temperature simultaneously. The meter also has up to three-point calibration. It is ideal for pools & spas, education, aquariums, and anywhere else pH is measured.
The Oakton EcoTestr CTS pocket meter is now a 3-in-1 tool that can measure conductivity, total dissolved solids and salinity. The expanded 4-digit dual-line display shows the parameter and temperature simultaneously. The meter also has single-point calibration. This meter is suited for water treatment, environmental monitoring, and anywhere conductivity, TDS and salinity are monitored.
Both the pH2+ and the CTS pocket testers have a larger display with a better viewing angle and a more intuitive interface. To enhance field use, the improved cap is now leakproof and functions as a sample cup and as a stabilizing base to stand the meter upright. With an IP67-rated housing, the meters are dustproof and waterproof—and they float. A lanyard attachment makes field measurements more convenient.
For more information on the Oakton product line offered by Cole-Parmer, go to http://www.coleparmer.com\oakton or call 800-323-4340.
Cole-Parmer has been a leading global source of laboratory and industrial fluid handling products, instrumentation, equipment, and supplies since 1955. Our product lines, including popular brand names such as Masterflex®, Ismatec®, Oakton®, Digi-Sense™, and more, are sold through company-owned customer channel outlets and a strong network of international dealers. We also feature an ISO-17025-accredited metrology lab for instrument calibration and repair. Cole-Parmer responds with excellence to customer needs, and offers application expertise and technical support. For more information, contact Cole-Parmer, 625 East Bunker Court, Vernon Hills, IL 60061. In the US, call 800-323-4340. International customers, call 1-847-549-7600. Visit us at http://www.coleparmer.com.