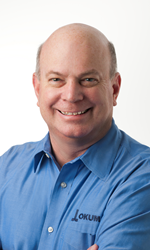 Charlotte, NC (PRWEB) January 19, 2017
Okuma America Corporation, a world leader in CNC machine tool manufacturing, is pleased to announce that Jeff Estes, director, Partners in THINC, will be speaking at the NTMA Plant Managers Roundtable at Modern Industries in Phoenix, Arizona on Wednesday, February 8, 2017. Estes will discuss the various types of automation devices that make lights-out manufacturing possible in addition to the advantages and challenges of each type of automization.
Estes' presentation will examine:

Supporting technologies like tool life management and metrology, which are critical to lights-out manufacturing.
How to prep equipment with larger tool capacity, larger lube tanks and agile workholding for unattended, extended runs.
Why IIoT (Industrial Internet of Things) is critical to ensuring the highest utilization of automation equipment. Notification of offline machines and real-time data is essential for maintaining shop floor efficiency and productivity.
Workforce talent needed to maintain productive systems.
Other Roundtable sessions include:

Apprenticeship/Workforce Development
Supply Chain Management
Additive Manufacturing
Big Data – Leveraging Shop Floor Data
Pant Productivity/Lean Principles
For more information and to register for the event contact Brittany Belko at NTMA, bbelko@ntma.org or call 216.264.2848.
About Okuma America Corporation
Okuma America Corporation is the U.S.-based sales and service affiliate of Okuma Corporation, a world leader in CNC (computer numeric control) machine tools, founded in 1898 in Nagoya, Japan. The company is the industry's only single-source provider, with the CNC machine, drive, motors, encoders, and spindle all manufactured by Okuma. The company also designs their own CNC controls to integrate seamlessly with each machine tool's functionality. In 2014 Okuma launched the Okuma App Store, the industry's only centralized online marketplace for machine tool apps and related content. Along with its extensive distribution network (largest in the Americas), and Partners in THINC, Okuma is committed to helping users gain competitive advantage through the open possibilities of machine tools, today and into the future. For more information, visit http://www.okuma.com/americas or follow us on Facebook or Twitter @OkumaAmerica.
###