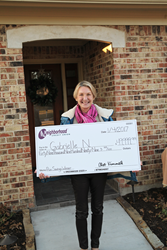 I have saved money since my first job at 16 years old. It's a mindset to make saving some of your money a priority so it becomes a habit.
FARMERS BRANCH, Texas (PRWEB) January 20, 2017
Saving money consistently can reap surprising rewards, Gabrielle N. of Farmers Branch has learned. (The winner's full name is being abbreviated to protect her identity.)
Gabrielle was stunned, speechless and a little skeptical, as Neighborhood Credit Union leaders showed up at her doorstep early Wednesday evening to surprise her with a $49,999.99 prize. The ninth-annual Prize Savings Account grand prize was nearly doubled this year to further encourage Neighborhood Credit Union members to build good savings habits.
For nearly 20 seconds, Gabrielle did not utter a word, as she stared at the oversized "check." The actual funds were deposited directly into her Prize Savings Account.
"Are you kidding? I have never won anything in my whole life," said an incredulous Gabrielle at last. "I don't know what to say … besides thank you!"
A credit union member since 1998, Gabrielle said she puts a portion of each and every paycheck into her savings account.
"I'm a saver," said Gabrielle. "I have saved money since my first job at 16 years old. It's a mindset to make saving some of your money a priority so it becomes a habit."
The Dallas-based credit union drew the winner's name from the ranks of its Prize Savings Account holders. Neighborhood Credit Union established the Prize Savings Account in 2007 to encourage people to save more money, at a time when the personal savings rate had dropped to one of the lowest levels in U.S. history. In addition to paying market-rate interest on the savings, Neighborhood Credit Union awards a variety of prizes throughout the year, culminating with the grand prize at the start of each new year. The more a person has saved in his or her Prize Savings Account, the more chances he or she has to win a prize. The grand prize has been $25,000 for the past eight years, but almost doubled to $49,999.99 this year.
"Gabrielle has been a consistent saver and is a great example of how good savings habits not only help secure a better future in the long run, but sometimes surprise us with short term rewards," said Carolyn Jordan, senior vice president at Neighborhood Credit Union.
Gabrielle said she plans to splurge on herself by replacing her broken television and getting her car fixed. As for the rest of her prize? "It's going to stay in savings," she said with a smile.
See the Video of the surprise delivery: https://youtu.be/kO4uEWfUhyk
How the Prize Savings Account works: Neighborhood Credit Union members receive one drawing entry for every $25 monthly average balance in their Prize Savings Accounts. The greater the savings, the greater the chance a member has of winning. Members are eligible for monthly $1,000 drawings and quarterly $10,000 drawings. At the start of each year, a winner is drawn for the newly-increased $50,000 grand prize based on the average monthly balance in the savings account at close of business December 31.
About Neighborhood Credit Union: The oldest credit union in Dallas (chartered April 18, 1930), Neighborhood Credit Union is a not-for-profit financial organization serving Dallas, Denton and Ellis counties, as well as the cities of Arlington and Midland. With branches in Dallas, Richardson, Arlington, Mesquite, Duncanville, Waxahachie, Lancaster, Grand Prairie, Coppell, Midland (and soon in Highland Village) and assets topping $590 million, Neighborhood Credit Union has a membership of 47,000 and continues to welcome new members daily. For more information, call (214) 748-9393 or visit http://www.myncu.com.