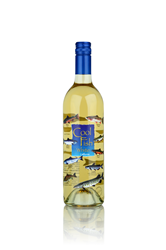 "Monvera's desire to innovate helped us to relaunch our Cool Fish wine brand," says Raul Gopez of Cool Fish Wines.
Richmond, CA (PRWEB) January 24, 2017
Monvera Glass Décor, an industry leading supplier of labels on glass bottles, has developed a four-color process UV printing option for its wine, spirits, beer, cosmetic and specialty food customers. Branching off from its industry-leading UV ink printing capability, the four-color printing process offers a new avenue by which customers can utilize screen printing as a branding choice. Monvera will demonstrate examples of these new UV printed labels at the upcoming Unified Wine & Grape Symposium January 25th-26th at the Sacramento Convention Center.
"UV printing on glass is now a standard product offering for our customers," says Caitriona Anderson, VP Sales & Marketing, at Monvera Glass Décor. "We wanted to take the basic service to the next level. Traditionally, screen-printing labels with ceramic inks requires the artwork to be designed for spot color printing. Now, leveraging our UV screen-printing capabilities, we can offer our customers the ability to print artwork in four-color process (also known as CMYK). The ability to screen print photographic designs in four-color process gives our customers and their designers even more design options along with a broader color pallet.
"Monvera's desire to innovate helped us to relaunch our Cool Fish wine brand," says Raul Gopez of Cool Fish Wines. Our existing label was extremely difficult to apply and created unsustainable production problems. Monvera took our artwork and using their UV technology produced a screen printed label that wraps completely around the bottle. The new label has had a transformative effect and has allowed us to go back out into the market with a fresh and upgraded look."
About Monvera Glass Décor:
Monvera Glass Décor is a full-service bottle and glassware decoration company specializing in screen printing on glass for the wine, spirit, beer, specialty-food and cosmetic industry. Clients include Boisset Family Estates, Frank-Lin Distillers, Garrett Markenson Coiffure and Veronica Foods. To learn more about Monvera visit http://www.monvera.com