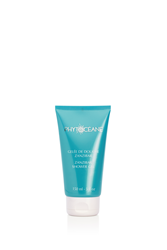 take an exotic journey deep into the heart of the Indian Ocean...
SAINT- MALO, FRANCE (PRWEB) January 21, 2017
Phytocéane invites you to take an exotic journey deep into the heart of the Indian Ocean, isolated from the rest of the world with ZANZIBAR SHOWER GEL. Inspired by the beauty of Zanzibar, a Tanzanian archipelago off the coast of East Africa, Phytocéane used key ingredients, Virgin Coconut Oil and moisturizing vegetal coral to create this gentle, crystal-clear shower gel to cleanse the body and promote relaxation and well-being.
This shower gel is part of Phytocéane's ZANZIBAR collection, also featuring a milky body cream with the same enticing island fragrance of vanilla and coconut with floral and citrus notes. ZANZIBAR SHOWER GEL is a complement to Phytocéane's professional ZANZIBAR DESTINATION body exfoliation and massage and can be purchased in select spas or online at http://www.lespausa.com.
ZANZIBAR SHOWER GEL..150 ml, suggested retail price $29.50
Directions for use: Lather over the body while in shower. Rinse. Avoid contact with the eyes. In case of contact, rinse thoroughly with water.
Virgin Coconut Oil - extreme nourishing properties.
Jania - ultra-moisturizing vegetal coral, remineralizing properties.
Phytocéane at a glance:
When exploring the secrets of Phytocéane you will discover a natural, marine brand that reveals precious JEWELS OF THE SEA and sets itself apart as a true treasure in the spa industry. Nestled in the heart of the Emerald Coast in France, Phytocéane embodies the region's timeless tradition of travel, escape and discovery. This professional, naturally-based facial and body care line utilizes resources and ingredients found in the most pristine, beautiful seas around the world. We are one of the only spa brands with our own laboratory, allowing us to research and cultivate our own ingredients, develop unique cosmetic formulas, manufacture skin care products and create cutting-edge professional treatments to deliver remarkable results.