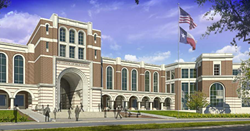 (PRWEB) January 22, 2017
Residents of Falls at Imperial Oaks are celebrating as a Conroe ISD recently announced that all students of The Falls are zoned to Grand Oaks High School. The new high school is located on Riley Fuzzel Rd. and is named after the Imperial Oaks subdivision and The Grand Parkway. Students of Falls at Imperial Oaks will transfer from Oak Ridge High School to attend the brand new school, slated to open Fall 2018.
The Falls community is excited for its young residents to attend the 3,000-seat ninth through twelfth grade campus for many reasons. The school is expected to have wireless support to enable students and teachers to step outside the classroom. Architects behind the project designed the high school with technology in mind— including WIFI and collaborative spaces throughout.
Additionally, Grand Oaks High School will ease congestion at Oak Ridge High School. Without the new high school, Conroe ISD projected that the current campus will be at 141 percent capacity by the fall of 2024. Grand Oaks High School will open with grades 9 and 10 bringing the school to full capacity in 2020 with the first graduating class of 2021.
Residents expect to experience an easier commute to school with the campus just a few miles outside of the subdivision. New roads in The Falls will offer more direct access to The Grand Parkway and Riley Fuzzel Rd. from all areas of the community.
Falls at Imperial Oaks is proud to be a part of the Conroe Independent School District. This year, all schools surrounding Falls at Imperial Oaks surpassed the 2016 state accountability ratings. Jim Holcomb, Developer of The Falls, made it a priority to build homes in a school district where children can have everything they need to be successful in life.
In addition to a new high school, a $13 million YMCA center is planned for the community. Construction on the Holcomb Family YMCA could begin as early as 2018.
About Falls at Imperial Oaks
Falls at Imperial Oaks is a premier master-planned community located east of interstate 45 in Spring, Texas. Lots and homes are available in eight sections, priced from the $220s-$800s. The Falls continues to expand and build new homes, while offering access to natural wooded areas, hiking trails, lakes for fishing and waterfront lots.